US to stop arming Kurds fighting IS: Turkish minister
The US is to cut off its supply of arms to Kurdish fighters in Syria, a move by US President Donald Trump that is sure to please Turkey, but further alienate Syrian Kurds who bore much of the fight against the Islamic State (IS) group.
In a telephone call on Friday with Turkish President Tayyip Erdogan, Trump said he had "given clear instructions" that the Kurds will receive no more weapons — "and that this nonsense should have ended a long time ago," Turkish Minister of Foreign Affairs Mevlut Cavusoglu said.
The White House confirmed the move in a cryptic statement about the telephone call that said Trump had informed Erdogan of "pending adjustments to the military support provided to our partners on the ground in Syria."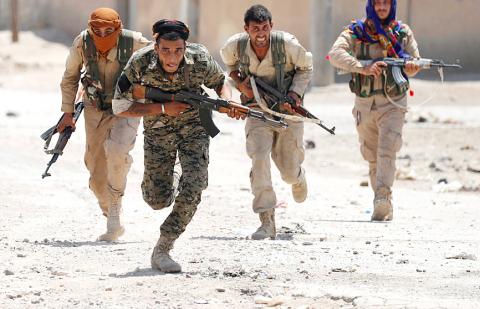 Kurdish fighters from the People's Protection Units run across a street in Raqqa, Syria, on July 3.
Photo: Reuters
The White House called the move "consistent with our previous policy" and noted the recent fall of Raqqa, once the IS' self-declared capital, but recently liberated by a largely Kurdish force.
The Trump administration in May announced it would start arming the Kurds in anticipation of the fight to retake Raqqa.
"We are progressing into a stabilization phase to ensure that ISIS cannot return," the White House said, using another acronym for the extremist group.
Trump's decision appeared to catch both the Pentagon and the US Department of State off guard.
Officials at both agencies, who would normally be informed of changes in US policy toward arming the Syrian Kurds, said they were unaware of any changes.
The officials spoke on condition of anonymity.
It was unclear whether the Trump administration notified the Kurds of the move before telling the Turks, nor was it clear how much significance the change would have on the ground, considering that the fight against the IS is almost over.
Comments will be moderated. Keep comments relevant to the article. Remarks containing abusive and obscene language, personal attacks of any kind or promotion will be removed and the user banned. Final decision will be at the discretion of the Taipei Times.