EPA boss calls on Beijing to be open-minded
Climate change is a humanitarian problem and Beijing should be more open-minded instead of preventing other nations from making contributions, Environmental Protection Administration (EPA) Minister Lee Ying-yuan (李應元) said yesterday.
"Such a world power should have more confidence in itself. The issue of climate change is a humanitarian one. We should all work together," Lee told a news conference in Taipei called to discuss how a national delegation promoted the nation's efforts in fighting climate change in Bonn, Germany, during the Conference of the Parties (COP 23) to the UN Convention on Climate Change.
The conference ran from Nov. 6 to Friday last week.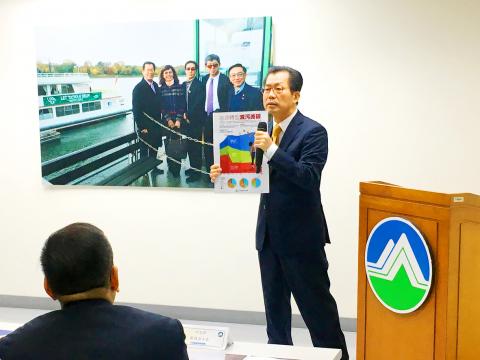 Environmental Protection Administration Minister Lee Ying-yuan addresses a news conference at the agency yesterday in Taipei.
Photo: CNA
The delegation had 31 bilateral talks with delegates from other nations, including Marshallese President Hilda Heine, Nauruan President Baron Waqa, Tuvaluan Prime Minister Enele Sosene Sopoaga, Swazi Prime Minister Barnabas Sibusiso Dlamini and Saint Lucian Prime Minister Allen Chastanet, he said.
Central Weather Bureau officials also held a meeting to share how Taiwan had helped the Solomon Islands enhance the precision of its weather forecasts and set up a dengue prediction system, he said.
"In such domains as environmental hygienics, medical science, agriculture and other humanitarian issues, we can make a lot of contributions," Lee said. "There were many difficulties, but we related to others with sincerity."
Lee said he was interviewed in English and Chinese by Deutsche Welle, which wanted to discuss Taiwan's anti-nuclear movements and plans to cut carbon emissions, adding that with the Ministry of Foreign Affairs help he also gave interviews to TV Berlin, Yahoo TV and other media.
Many local non-governmental organizations, including the Taiwan Youth Climate Coalition, set up stands to promote their environmental campaigns at the summit.
Asked if the EPA is planning more practical action to cut carbon emissions, Lee said the agency has proposed 200 action plans for the energy, manufacturing, transportation, agriculture, households, business and environment sectors.
The plans are being reviewed by the Executive Yuan and are to be finalized by the end of this year, he said.
Citing one plan, Lee said Taiwan Power Co (台電) has budgeted NT$9.2 billion (US$30.63 million) over three years and NT$150 billion over eight years to upgrade its coal-fired facilities at its Taichung Power Plant.
The government expects to reduce the national ratio of coal-fired power from 45 percent last year to 43 percent by 2020 and to 30 percent by 2025, he said, adding that more detailed steps are stipulated in the Greenhouse Gas Reduction and Management Act (溫室氣體減量及管理法).
Lee said the chairman of Danish energy company Orsted (formerly known as DONG Energy), Matthias Bausenwein, wrote to the agency last week to say he fully supports a careful and professional Environmental Impact Assessment (EIA) mechanism.
The aggregate capacity of projects that have passed EIA reviews reaches about 10 gigawatts, EPA Deputy Minister Chan Shun-kuei (詹順貴) said.
However, developers of wind farms that overlap with shipping lanes might have to choose other sites, he said, calling on the Bureau of Energy and the Maritime Port Bureau to provide developers with basic information.
Comments will be moderated. Keep comments relevant to the article. Remarks containing abusive and obscene language, personal attacks of any kind or promotion will be removed and the user banned. Final decision will be at the discretion of the Taipei Times.