US sailors accuse Taiwanese rescuers of attempted murder
Two US sailors who were last month rescued by a Taiwanese fishing vessel after being stranded at sea for five months have accused the fishermen of deliberately trying to ram their boat, an allegation the Ministry of Foreign Affairs yesterday denied.
Speaking at a routine news conference in Taipei, ministry spokesman Andrew Lee (李憲章) said data provided by the National Rescue Command Center and the Council of Agriculture's Fisheries Agency monitoring center disproved claims made by US sailors Jennifer Appel and Tasha Fuiava.
Appel's and Fuiava's plan to sail from Hawaii to Tahiti in 18 days in May turned into a five-month ordeal at sea.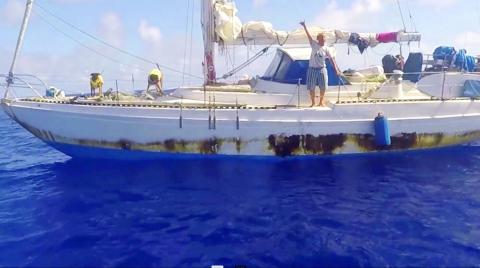 Jennifer Appel on Oct. 25 waves to rescuers as they approach her crippled sailboat after being lost at sea for months.
Photo: AP / US Navy
However, in an interview with NBC News, the women accused crew members of the Kaohsiung-registered fishing boat Feng Chun No. 66 of trying to ram their boat at night.
The two said that despite having drifted at sea for five months in thunderstorms and having dangerous encounters with sharks, "It wasn't until they were in the hands of their supposed rescuers on the Taiwanese fishing vessel that they actually felt their lives were in danger," NBC News reported.
"While the media portrayed a rescue by the Taiwanese fishing vessel, they were actually the reason we called for help," Appel was quoted by the US broadcaster as saying.
However, Lee rebutted the allegations, saying that on Oct. 24, the Feng Chun No. 66 came across the malfunctioning sailboat carrying Appel, Fuiaba and their two dogs when fishing in the north of Midway Atoll.
"At the time, the National Rescue Command Center was talking to US authorities, while the Fisheries Agency's monitor center also maintained contact with the vessel owner," Lee said.
"Data showing the fishing vessel's speed and location do not show any signs of what the two women claimed happened. We do not understand why they made such allegations," he said.
Lee said that the initial plan was to tow the crippled sailboat to an atoll, but the US Coast Guard sent the USS Ashland, which was close by, and completed the rescue mission on Oct. 25.
Comments will be moderated. Keep comments relevant to the article. Remarks containing abusive and obscene language, personal attacks of any kind or promotion will be removed and the user banned. Final decision will be at the discretion of the Taipei Times.