Tsai visits Pearl Harbor memorial in Honolulu
President Tsai Ing-wen (蔡英文) on Saturday landed in Honolulu en route to the nation's diplomatic allies in the Pacific and set off for a visit to a Pearl Harbor memorial.
Tsai left on Saturday on a week-long trip to three Pacific island allies — Tuvalu, the Solomon Islands and the Marshall Islands — via Honolulu and the US territory of Guam.
Earlier this week, the US Department of State said Tsai's transits through US soil would be "private and unofficial" and were based on long-standing US practice consistent with "our unofficial relations with Taiwan."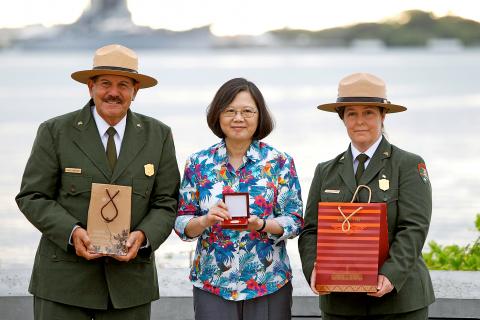 President Tsai Ing-wen, center, US National Parks Service Historian Daniel Martinez, left, and US National Parks Service Supervisor Jacqueline Ashwell exchange gifts after Martinez and Ashwell gave Tsai a tour of the USS Arizona Memorial at Pearl Harbor near Honolulu, Hawaii, on Saturday.
Photo: Reuters
It said there was "no change to the US 'one China' policy," which recognizes that Beijing maintains the view that there is only "one China," but holds that Taiwan's sovereignty is unresolved.
Tsai says she wants to maintain peace with China, but will defend Taiwan's democracy and security.
The president, accompanied by her entourage, on Saturday afternoon left on a short boat ride for the USS Arizona Memorial, which is built over the remains of the battleship sunk in Pearl Harbor in World War II.
Earlier in the day, Tsai took part in a lunch that was attended by about 200 overseas Taiwanese.
Tsai told lunch guests that Hawaii is of great importance to Taiwan, citing links between the nation's Aborigines and those in Hawaii, as well as mutual exchanges in business and tourism.
More than 10,000 Taiwanese travelers visit the US state every year, Tsai said, adding that the number is likely to increase following Taiwan's admission into the US Global Entry program beginning on Wednesday.
The Global Entry program is an initiative launched by the US government for expedited entry through US borders.
Tsai said relations between the two nations would strengthen, adding that Taiwan would continue to work with the US on regional security, investment and trade issues.
She reiterated her position that Taiwan would always be a reliable partner of the US.
Tsai said that Aborigines on Pacific islands, like those in Hawaii, are important to their Taiwanese counterparts in their journey to learn about their history.
She said she hopes Taiwan and Hawaii can build on the existing foundation of cooperation and continue to develop an even closer relationship in the spirit of sustainable development goals set by the UN.
American Institute in Taiwan Director James Moriarty, who was also in attendance, said he has witnessed Taiwan's democracy growing stronger over the years, adding that Taiwanese under 30 have not experienced authoritarianism.
Interpersonal exchanges are the core of Taiwan-US relations and the most important part of relations between the two nations outside of cooperation on regional security and trade, he said.
The trip to diplomatic allies is Tsai's second this year. In January she stopped over in Houston, Texas, and San Francisco on her way to and from Latin America, and visited the headquarters of Twitter, which is blocked in China.
This story has been amended since it was first published to correct the US' "one China policy," which holds that Taiwan's sovereignty is unresolved.
Comments will be moderated. Keep comments relevant to the article. Remarks containing abusive and obscene language, personal attacks of any kind or promotion will be removed and the user banned. Final decision will be at the discretion of the Taipei Times.