Call for an exchange of visits between Tsai and Xi
Former president Chen Shui-bian (陳水扁) has signed a petition urging Chinese President Xi Jinping (習近平) to exchange visits with President Tsai Ing-wen (蔡英文) to advance world peace, former Straits Exchange Foundation vice chairman Chang Chun-hung (張俊宏) said yesterday.
Chang, a founding member of the Democratic Progressive Party (DPP), made the remarks at a forum in Taipei on events at the Chinese Communist Party's (CCP) 19th National Congress.
Foundation on Asia-Pacific Peace Studies chairman Hsu Hsin-liang (許信良), a former DDP member and chairman, and former DPP legislator Lin Choi-shui (林濁水) also attended the forum.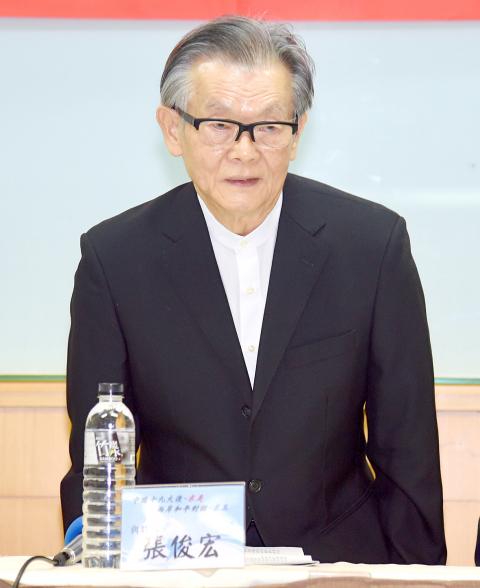 Former Democratic Progressive Party chairman and legislator Chang Chun-hung yesterday speaks at a forum in Taipei.
Photo: Huang Yao-cheng, Taipei Times
Chang extended an invitation to Xi to visit the nation, adding that he should work with Taiwan toward the non-proliferation of nuclear weapons and permanent world peace.
Chang said Chen had sent him a statement supporting his proposition, saying Chen agrees that "the leaders across the Taiwan Strait should exchange visits to discuss a framework for cross-strait peace and stability, and a plan for establishing permanent world peace."
Taiwanese have created a democratic society and Taiwanese business figures had helped then- Chinese president Deng Xiaoping (鄧小平) transform China, he said.
Xi said he is planning a Chinese society for Chinese of this century, but if China works with Taiwan, the two nations will help create a future for all humanity in the 21st century, Chang said.
Reached for confirmation, Chen told the Taipei Times that the content of the message was genuine, and that opposing nuclear power and the proliferation of nuclear weapons is consistent with his political stance and part of the DPP's charter.
Chen added that he altered the phrasing of Chang's invitation to Xi to an exchange of visits between Taiwanese and Chinese leaders, as that reflected his belief for "equality" between the two sides.
Chen sent the Taipei Times a copy of his statement saying: "I hereby sign the petition in support of the Declaration for World Peace to urge the shared management of weapons-grade nuclear materials to defuse the US-[North] Korean military crisis."
Hsu declined to support Chang's call for dialogue.
He said that it would be inappropriate for him to support Chang's statement and his presence at the forum was intended as a tribute to Chang's contribution to the nation.
The importance of CCP congress with regard to cross-strait relations is that Xi showed he is willing to approach the issue with the "magnanimity of a great nation's leader," Hsu said, adding: "The leadership on both sides of the [Taiwan] Strait are rational and firm."
Lin also declined to support the call for Xi to visit Taiwan.
Comments will be moderated. Keep comments relevant to the article. Remarks containing abusive and obscene language, personal attacks of any kind or promotion will be removed and the user banned. Final decision will be at the discretion of the Taipei Times.