Court rules in Ma's favor in defamation case against Liang
The Democratic Progressive Party and former party spokesman Liang Wen-chieh (梁文傑) yesterday lost an appeal in a defamation lawsuit brought by former president Ma Ying-jeou (馬英九), with the Taiwan High Court ordering them to pay Ma compensation totaling NT$1.2 million (US$39,643).
The sum was greater than that ordered in the first ruling in 2015, when Taipei District Court judges ordered Liang and the party to pay Ma NT$300,000 in compensation, but were not required to issue a public apology in newspapers as Ma had demanded.
In 2011, Liang, then spokesman of the party, said on a TV talk show that Ma had solicited illegal political donations totaling NT$300 million during a meeting with Chen Ying-chu (陳盈助), who allegedly operated underground gambling pools and had ties to businesses run by gangsters.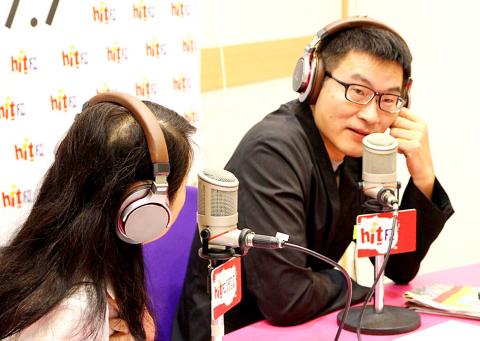 Democratic Progressive Party Taipei City Councilor Liang Wen-chieh, right, talks to radio and TV talk show host Clara Chou at the Hit FM studio in Taipei on Sept. 15.
Photo: Courtesy of Hit FM
Liang at the time said he was citing information published in a report by the Chinese-language Next Magazine, as well as recordings made by the journalist who conducted interviews for the report, which Liang said he had obtained.
Ma filed the defamation suit seeking NT$2 million in compensation and demanding that a public apology be printed in local newspapers.
In yesterday's ruling, the Taiwan High Court said that Liang had not verified the information by reasonable means, and that he had no evidence to corroborate his remarks, which resulted in a negative public perception of Ma and damage to his reputation.
"It is disappointing to hear this ruling. I do not understand what the judges would constitute as verifying information by reasonable means," Liang said after the verdict. "My remarks had real basis... Different judges will give widely different rulings, so I regret this verdict."
Comments will be moderated. Keep comments relevant to the article. Remarks containing abusive and obscene language, personal attacks of any kind or promotion will be removed and the user banned. Final decision will be at the discretion of the Taipei Times.