More military spending on agenda: Tsai
PLA TRACKING: The president discussed defense spending with visitors from a US think tank, as the defense ministry tried to reassure the public about PLA exercises near Taiwan
Taiwan will continue to increase military spending as it works to strengthen its national defense capabilities, President Tsai Ing-wen (蔡英文) yesterday told a delegation from a Washington-based think tank, while the Ministry of National Defense said it was closely monitoring Chinese military planes and navy vessels during their exercises near Taiwan.
Meeting with Hudson Institute president Kenneth Weinstein and others with his group, Tsai said Taiwan maintains stable and close economic and regional security relations with the US.
As head of state, one of her priorities is to strengthen Taiwan's defensive capabilities and promote the development of its defense industry, and the government plans to increase its defense budget to enhance military training and boost military morale, she said.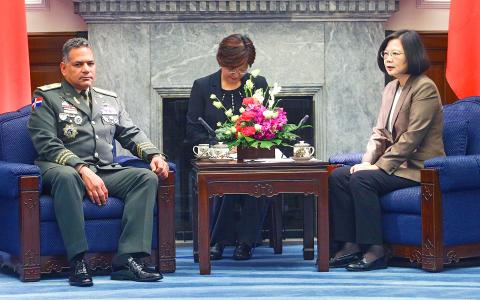 Dominican Republic Minister of Defense Lieutenant General Maximo Delgado, left, meets with President Tsai Ing-wen, right, at the Presidential Office in Taipei yesterday.
Photo: CNA
Taiwan has made many efforts in this area, Tsai said, adding that she looks forward to receiving suggestions from the institute, particularly in the fields of military reforms and cooperation to strengthen regional peace and stability.
She did not give any figures, but in March the government suggested it wanted to increase defense spending from 2 percent of GDP to about 3 percent of GDP, which would mean a 50 percent increase in defense spending.
However, the Ministry of National Defense's proposed budget for fiscal 2018, which it submitted earlier this month, was for NT$327.8 billion (US$10.83 billion), an increase of 1.9 percent over its NT$321.7 billion budget for this year.
Meanwhile, ministry spokesman Chen Chung-chi (陳中吉) said China's far-sea training activities that bring its fighters and vessels near Taiwan are expected to become routine and the defense forces have a set of response options.
Chen made the remarks in response to reporters' questions following a news conference in Beijing on Sunday on the sidelines of the Chinese Communist Party's 19th National Congress on the theme of "solid strides on the path of building a powerful military with Chinese characteristics."
People's Liberation Army (PLA) Air Force bomber pilot Liu Rui (劉銳) told the news conference that since the PLA expanded its far-sea training to the deep seas several years ago, it has made such deployments a routine part of its live-fire exercise cycles.
The Chinese military would continue to expand its far-sea training, increase the frequency of such training activities and increase the scale of its exercises, Liu said.
PLA aircraft and vessels have several times flown or sailed near southern Taiwan and into the Western Pacific via the Miyako Strait, which lies between the Japanese islands of Miyako and Okinawa, and is part of Japan's exclusive economic zone, but includes a narrow band of international waters and airspace.
Chinese fighter jets and ships have also regularly crossed the "first island chain," which refers to the first major archipelagos off the East Asian continental mainland, including the Japanese archipelago, the Ryukyu Islands, Taiwan and the northern Philippines.
Chen said that the military is closely monitoring the air space and seas above and around Taiwan, and has a range of responses.
He also urged the public to support the government's efforts to develop a more independent defense sector and asymmetric warfare capabilities.
Comments will be moderated. Keep comments relevant to the article. Remarks containing abusive and obscene language, personal attacks of any kind or promotion will be removed and the user banned. Final decision will be at the discretion of the Taipei Times.