Premier Lai's high approval rating boosts Tsai's
CONSTITUTIONAL REFORM: The nation is largely split on lowering the minimum voting age from 20 to 18, with half of respondents opposed and 46.8 percent in favor
Premier William Lai's (賴清德) high approval rating of nearly 70 percent is believed to have helped boost President Tsai Ing-wen's (蔡英文) rating toward 50 percent, while more than half of Taiwanese support a proposal to amend the Constitution, a poll released yesterday by the Taiwan Style Foundation showed.
Lai, who assumed the post on Sept. 8, has garnered the approval of 68.8 percent of respondents, while 23 percent expressed dissatisfaction.
Regarding Lai's ability to revive the economy, 63.5 percent said they are confident, compared with 30.2 percent who said they were not, while 65.2 percent think his executive ability is good, compared with 21 percent who do not agree.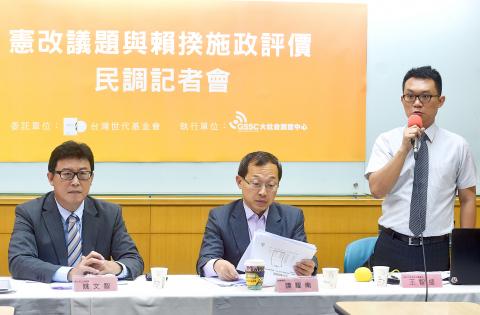 Taiwan Style Foundation chairman Wang Zhin-sheng, right, presents the results of the foundation's latest opinion poll yesterday at a news conference in Taipei, accompanied by Democratic Progressive Party Legislator Pasuya Yao, left, and lawyer Tan Hui-nan.
Photo: Chien Jung-fong, Taipei Times
The premier is heeding public opinion, according to 60.2 percent of respondents, while 30.3 percent said he is not.
Tsai's approval rating stands at 49.7 percent, while her disapproval rating is at 45.1 percent. Just over half of respondents at 54.8 percent said they support Tsai, while 40.4 percent said they do not.
Tsai's satisfaction rating had fallen to a record low of 18.4 percent in a poll released in May by Taiwan Democracy Watch ahead of the first anniversary of her presidency.
"In terms of polling performance, the [administration] has weathered an unstable period after Lai's inauguration," Democratic Progressive Party (DPP) Legislator Pasuya Yao (姚文智) said.
The poll suggests that controversies surrounding the administration's reform policies have ended, while efficiently implementing the policies is to be the next challenge, foundation board director Wang Zhin-sheng (王智盛) said.
When asked about a proposal by Tsai and the DPP to amend the Constitution, 56 percent of respondents said they approve, while 22.1 percent disapproved.
Half of the respondents opposed lowering the minimum voting age from 20 to 18, while 46.8 percent approved of the potential constitutional amendment.
Human rights protection should be codified into the Constitution, 69.8 percent of the respondents said, but 17.3 percent said it is not necessary.
Seventy-two percent believe that legislative elections should be revised to prevent unequal representation, while 17.8 percent said the revision is not necessary.
While 80.9 percent of respondents are in favor of a proposal put forth by Tsai in her Double Ten National Day address to hold a political party leaders' meeting, 13.6 percent disapproved.
Regarding cross-strait policy, two-thirds of respondents said they support Tsai's statement that the nation would continue to show goodwill and stay true to its promises without returning to a confrontational relationship or succumbing to Beijing's pressure, while 24.9 percent said they disapproved.
The poll conducted on Thursday and Friday collected 1,072 valid samples and has a confidence level of 95 percent with a margin of error of 2.99 percentage points.
Comments will be moderated. Keep comments relevant to the article. Remarks containing abusive and obscene language, personal attacks of any kind or promotion will be removed and the user banned. Final decision will be at the discretion of the Taipei Times.