Tsai vows to defend the nation
UNITY: The president called on political party leaders to discuss issues such as constitutional reform and finding the nation's place in the international community
President Tsai Ing-wen (蔡英文) yesterday pledged to defend the nation's freedom and democracy as she called on Chinese leaders to work together to create new models of cross-strait interaction to lay a more solid foundation for long-term peace and stability.
In her Double Ten National Day address titled "Better Taiwan," Tsai said the government would work to strengthen the combat and defense capabilities of the armed forces and pursue military reform to better safeguard the nation and protect freedom and democracy.
She also said that the nation remains committed to maintaining peace and stability in the Taiwan Strait and across the region.
President Tsai Ing-wen delivers a speech during the National Day celebrations in front of the Presidential Building in Taipei yesterday.
Photo: AP
Tsai said that as commander-in-chief, she has fully taken responsibility for military reform.
"Faced with the growing demands of modern warfare, we must ensure that our new-generation military focuses not on quantity, but quality. We must be more prepared for growing threats in cybersecurity and espionage, and be more capable of protecting our critical infrastructure," Tsai said.
She pledged to continue to build up Taiwan's indigenous defense industry through technical exchanges, including a commitment to build the nation's own fighter jets and submarines.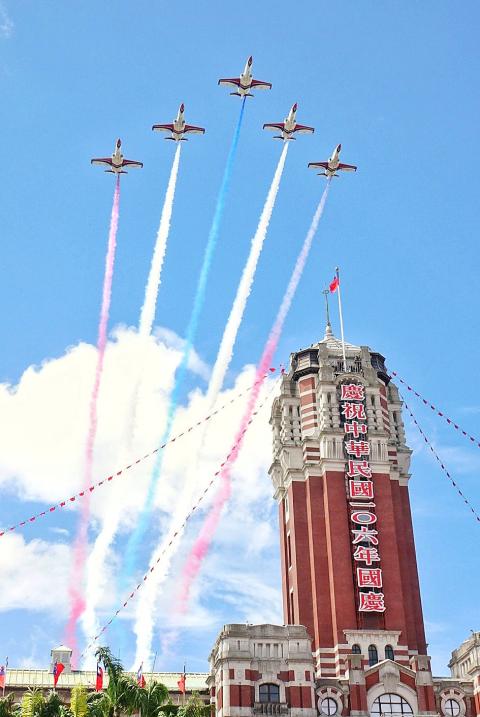 Five aircraft from the Republic of China Air Force's Thunder Tiger Aerobatics Team leave colored smoke trails as they fly over the Presidential Office Building in Taipei during yesterday's official Double Ten National Day celebrations.
Photo: Fang Pin-chao, Taipei Times
The purpose of military reform is not to seek war, but to safeguard Taiwan's freedom, democracy and way of life, as well as to ensure the right of the Taiwanese to decide their own future, Tsai said.
She said that cross-strait relations is an issue that affects the nation's future and the long-term welfare of its 23 million people, adding that "we have exerted maximum goodwill" to safeguard the peaceful and stable development of such ties.
Although political differences between the two sides of the Strait have led to some complications, Tsai said that her administration has "nevertheless worked to maintain the basic stability of cross-strait relations."
Beijing has cut off channels of communication between the two sides and pressed two of the nation's diplomatic allies to switch recognition to China since Tsai took office in May last year.
Tsai reiterated her oft-stated position that "our goodwill will not change, our commitments will not change, we will not revert to the old path of confrontation and we will not bow to pressure."
"This has been my consistent position on cross-strait relations," she said.
As this year marks the 30th anniversary of cross-strait exchanges since Taiwan lifted a ban on veterans visiting China in 1987, the president said that over the past 30 years, hostility between the two sides has been replaced by peaceful development and a new chapter has been written in cross-strait ties.
"Key to this was that both sides were able to put aside political differences in order to be pragmatic and realistic," Tsai said, adding that in the course of exchanges and interactions, both sides accumulated goodwill and established new interactions and ways of thinking.
She called on Beijing to treasure these hard-fought results and the accumulated goodwill from the past 30 years.
"On this existing basis, we hope for more breakthroughs in the cross-strait relationship," Tsai said.
Enumerating the areas in which progress has been made over the past year, she said her administration would continue to work hard to fulfill its commitments and push reforms to provide a better life for Taiwanese.
Among the commitments she mentioned were transforming the nation's economy and industrial structure, investing in infrastructure, reforming the tax code, expanding long-term care services and reforming the pension and judicial systems.
Tsai, who is also chairperson of the Democratic Progressive Party, invited political party leaders to exchange views on constitutional reform and other issues, such as safeguarding the nation's democracy.
Present at the National Day ceremony were Chinese Nationalist Party (KMT) Chairman Wu Den-yih (吳敦義), People First Party Chairman James Soong (宋楚瑜), New Power Party Executive Chairman Huang Kuo-chang (黃國昌) and Republican Party Chairwoman Hsu Hsing-ying (徐欣瑩).
Tsai said the issues she spoke about in the speech, including domestic reforms, safeguarding the nation's democracy and freedom and finding a place for the nation in the international community, "all also require that Taiwan come together."
"I hereby formally invite the leaders of our political parties to meet to discuss issues of concern. As long as we are united, we can show the world the pride we take in our democracy, freedom and prosperity," Tsai said.
Comments will be moderated. Keep comments relevant to the article. Remarks containing abusive and obscene language, personal attacks of any kind or promotion will be removed and the user banned. Final decision will be at the discretion of the Taipei Times.