Lawmakers urge treason charges for spies for PRC
Following violence allegedly caused by Chinese Unity Promotion Party (CUPP) members at a music festival in Taipei and lenient punishments given to Chinese intelligence agents, Democratic Progressive Party (DPP) lawmakers yesterday proposed amending the Criminal Code to allow for treason charges against people spying for China and criminal organizations working for Beijing.
Treason charges are rarely brought against suspects due to political reasons.
Despite incriminating evidence, the judiciary usually cites the National Security Act (國家安全法) to charge intelligence operatives and avoids citing offenses against the internal and external security of the state stipulated in the Criminal Code, because the offenses are only applicable to crimes committed for an "enemy state," DPP Legislator Wang Ding-yu (王定宇) said.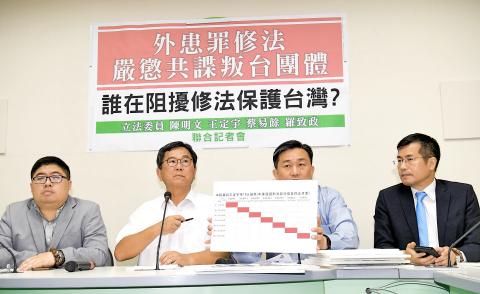 From left: Democratic Progressive Party legislators Tsai Yi-yu, Chen Ming-wen, Wang Ding-yu and Lo Chih-cheng host a news conference in Taipei yesterday to discuss the violence that broke out after the "Sing! China: Shanghai–Taipei Music Festival" on Sunday at National Taiwan University's athletic field was ended early.
Photo: CNA
While Chinese intelligence activities have been increasing in Taiwan, China does not fall into the category of an "enemy state," or even a state, as the Constitution recognizes China as "the mainland area," Wang added.
A person can be sentenced to death or life in prison if convicted of treason and they can be imprisoned from three to 10 years for attempted treason according to the Criminal Code, but the judiciary can only cite the National Security Act, which stipulates a minimum sentence of five years, he said.
The legal complication has led to lenient punishments for people convicted of spying for China, including former Chinese People's Liberation Army intelligence officer Zhen Xiaojiang (鎮小江), who was sentenced to only four years in prison for organizing the largest Chinese spy ring in Taiwan, he said.
Wang proposed amending the Criminal Code to change the term "enemy state" to "enemy" to circumvent the political implications.
"The amendment does not deal with the issue of unification and independence, because the national identification issue cannot deprive the law of the ability to protect the nation," Wang said.
The amendment was proposed based on the Criminal Code of the Armed Forces (陸海空軍刑法), which stipulates that any collusion with an "enemy group" can constitute treason, Wang said.
The Chinese Nationalist Party (KMT) has obstructed his proposals seven times, he said, calling on the KMT to endorse the latest draft amendment.
The treason laws, when amended, could also be applied to any "criminal organization disguised as a political party in collusion with China," DPP Legislator Chen Ming-wen (陳明文) said, pointing to the CUPP.
The violence caused by CUPP members after Sunday's "Sing! China: Shanghai-Taipei Music Festival" at National Taiwan University was the latest incident in a series of violent act by pro-unification groups with a background in organized crime, which intend to destabilize Taiwanese society to pave the way for a Chinese military intervention, Chen said.
Citing statistics from national security agencies, Chen said that 100,000 Chinese tourists have entered Taiwan with hidden agendas and about 10,000 of them have helped with Beijing's intelligence operations.
Those operatives have worked with local organized crime groups to smuggle light weapons into Taiwan, he said, calling on law enforcement agencies to crack down on such activities.
"The amendment is not aimed at restarting the White Terror era or an espionage act [with unchecked power]," DPP Legislator Lo Chih-cheng (羅致政) said. "The amendment would build up psychological defenses as the foundation of national defense."
The US has planned to sell top-grade weapons to Taiwan, but has not done so, because the Pentagon believes that Taiwan's counterintelligence measures and psychological defenses are insufficient, and the amendment would serve to declare Taiwan's determination to defend itself, Lo said.
Comments will be moderated. Keep comments relevant to the article. Remarks containing abusive and obscene language, personal attacks of any kind or promotion will be removed and the user banned. Final decision will be at the discretion of the Taipei Times.