Activist's wife arrives in China to attend his trial
Lee Ching-yu (李凈瑜), the wife of human rights advocate Lee Ming-che (李明哲), yesterday arrived in Changsha, China, for the trial of her husband, which is scheduled to begin today.
Lee Ching-yu departed from Taipei International Airport (Songshan Airport) with a lawyer, Straits Exchange Foundation officials and two representatives from a civic group that have called on China to free Lee Ming-che's release.
She did not talk to the media.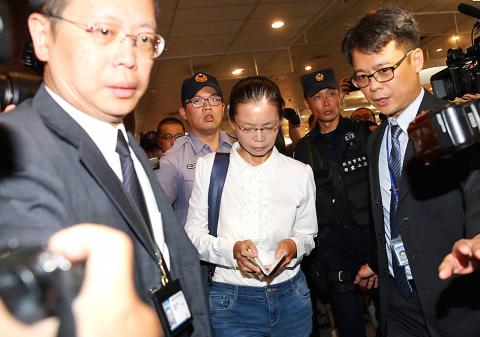 Lee Ching-yu, center, the wife of Taiwanese human rights activist Lee Ming-che, yesterday prepares to board a flight from Taipei International Airport to attend her husband's trial in Changsha in China's Hunan Province.
Photo: CNA
Fan Chih-cheng (范值誠), the lawyer retained by the government on Lee Ching-yu's behalf, said he was there to advise her on legal matters, but would not represent her husband in China.
Lee Ming-che disappeared after entering China via Macau on March 19.
The Chinese government on May 26 announced that he had been arrested on charges of "subversion of state power."
His family and colleagues have maintained that he did nothing wrong.
They said he had simply communicated with Chinese users on Wechat about Taiwan's experience in becoming a democracy and had helped raise money for the families of detained Chinese lawyers.
China's Taiwan Affairs Office spokesman An Fengshan (安峰山) on Wednesday said that the Yueyang Intermediate People's Court in Hunan Province would hear Lee Ming-che's case soon, but he did not disclose a date.
However, according to some media reports, the hearing is scheduled for today.
On Saturday, Lee Ching-yu asked during a news conference in Taipei that supporters forgive her husband if he says something in court that disappoints them, as he might be forced to give testimony against his own free will.
Additional reporting by Reuters
Comments will be moderated. Keep comments relevant to the article. Remarks containing abusive and obscene language, personal attacks of any kind or promotion will be removed and the user banned. Final decision will be at the discretion of the Taipei Times.