Premier Lin resigns, Cabinet to follow
GOALS MET? Lin Chuan told a news conference that he decided to step down because he had completed the three goals he set in his agenda after taking office
Premier Lin Chuan (林全) resigned yesterday and the Cabinet is to follow suit en masse tomorrow, amid rumors that Tainan Mayor William Lai (賴清德) could be tapped to succeed Lin.
Lin told a news conference at the Executive Yuan that he decided to resign because he had completed the three goals in his agenda since he became premier last year: to steer the administration through the transitional period; implement President Tsai Ing-wen's (蔡英文) policies and to lay a foundation for the nation's development by coordinating Cabinet policies.
Lin said he had proposed resigning in June because he believed that he was not the appropriate candidate to lead the administration through next year's mayoral and councilor elections, and felt that a new premier with a sharper political consciousness should take over as early as possible.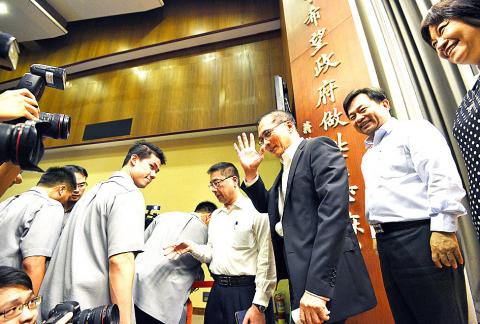 Premier Lin Chuan, third from right, waves to photographers yesterday at the Executive Yuan in Taipei after a news conference to announce his resignation.
Photo: Chen Chih-chu, Taipei Times
However, Tsai asked him to delay his resignation until the tasks requiring his expertise were completed, including the long-awaited tax reform package and the budget review of the Forward-looking Infrastructure Development Program, Lin said.
That review was completed on Thursday and the tax reform proposal was announced on Friday, he said.
"Over the past 15 months, I have completed the 'five plus two' innovative industries development plan, the long-term care service 2.0 package, the social housing planning and implementation framework, as well as amending the Electricity Act (電業法) to pave the way for the transition to 'green' energy, raising funds for long-term care services and proposing a tax reform package," Lin wrote in his resignation letter.
"The Forward-looking Infrastructure Development Program's initial budget passed on Thursday. While deeply appreciating the opportunity to serve the nation afforded by the president, I have completed the short-term goals and planned to resign as the premier to smooth the president's appointments plan," he wrote.
Reports of a major Cabinet reshuffle have been circulating for months, with some in the pan-green camp demanding that Lin should resign as the administration's approval rating dropped.
"As a politician I accept all criticism," Lin said. "I am very happy to be relieved of the burden and I am glad and thankful that someone is willing to succeed me."
Lin said he and Tsai had reached a mutual understanding on who should be the next premier, but he refused to say who it was.
Lin is to officially leave office on Thursday.
It has been widely speculated that Lai would take over as premier on Friday, but Lai, who has repeatedly denied the rumors, declined to say if he had been picked to succeed Lin.
Lin's Cabinet has been criticized for being dominated by older, pan-blue and male politicians, and its labor policy and infrastructure development program were strongly opposed during the legislative review.
In response to rumors that those holding financial or economic portfolios would be reappointed, Lin said that the next premier would announce the next Cabinet.
His resignation is widely seen as an attempt to salvage the Tsai government's popularity.
"I qualify for a senior citizen card, so I can lead a carefree life. I do not plan to take any jobs. I want to stress that I will not accept any government positions," Lin said.
There has been speculation that he might become the next central bank president.
Presidential Office Secretary-General Joseph Wu (吳釗燮) said that Tsai would announce Lin's replacement at a news conference today.
Lin submitted his resignation to Tsai after she held a national security meeting on Sunday in response to the North Korean nuclear test, saying that he had completed the government's short-term objectives, Wu said.
Tsai accepted his resignation after a serious conversation with Lin, Wu said.
Comments will be moderated. Keep comments relevant to the article. Remarks containing abusive and obscene language, personal attacks of any kind or promotion will be removed and the user banned. Final decision will be at the discretion of the Taipei Times.