Gas issues cause nationwide blackout
THE BURDEN OF RESPONSIBILITY: Minister of Economic Affairs Lee Chih-kung verbally resigned after 6.68 million electricity users nationwide were forced onto power rationing
A natural gas supply disruption to a major power plant in Taoyuan's Datan Township (大潭) yesterday caused blackouts throughout the nation and subsequent power rationing, the Ministry of Economic Affairs said.
Minister of Economic Affairs Lee Chih-kung (李世光) resigned from his position to shoulder responsibility.
The Cabinet accepted Lee's oral resignation immediately.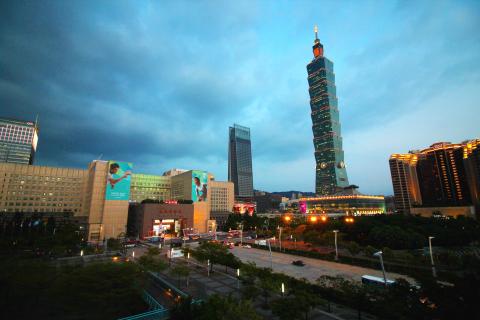 Buildings around Taipei 101 in Taipei's Xinyi District are shrouded in darkness during a power outage yesterday evening.
Photo: Chung Hung-liang, Taipei Times
About 6.68 million users, half of the nation's 13 million users, faced power rationing from 6pm to 9pm last night as state-run Taiwan Power Co (Taipower, 台電) was striving to restore power generation from the plant, Taipower chairman Chu Wen-chen (朱文成) told a media briefing.
The latest power rationing was the first since 2002 because of insufficient natural gas supplies to power generators.
The malfunction will not affect supplies today, Chu told reporters.
Cars and scooters in Taipei yesterday are stopped in a traffic jam after a power outage caused traffic lights to stop functioning.
Photo courtesy of a member of the public
Power rationing was lifted at 9:40pm.
The latest malfunction eliminated 4.7 gigawatts (GW) from power supplies yesterday when power consumption hit another record high of 36.45GW at the day's peak.
All six generators at the power plant shut down abruptly yesterday afternoon when a natural gas supply line was cut, possibly due to human error, gas supplier CPC Corp, Taiwan (CPC, 中油) told reporters.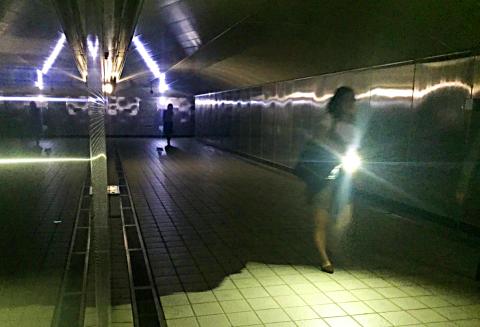 A pedestrian uses a flashlight while walking through a Songjiang Road underpass in Taipei during a power outage yesterday afternoon. Emergency lights also provided some light.
Photo: CNA
CPC supplies 3.5 million tonnes of natural gas to Taipower a year, the company said.
Seventeen counties and cities suffered the power outage, the ministry said.
The Central Taiwan Science Park and South Taiwan Science Park, which house the nation's major semiconductor and flat-panel manufacturers, were not affected by the power disruption, Chu said.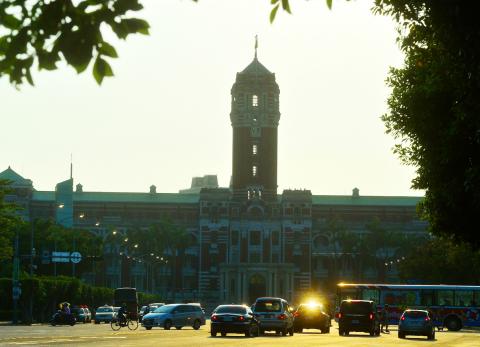 The Presidential Office Buidling is silhouetted against the sky at dusk yesterday as a power outage hit Taipei and other areas.
Photo: Wang Yi-sung, Taipei Times
The nation's two biggest semiconductor companies, Taiwan Semiconductor Manufacturing Co (TSMC, 台積電) and United Microelectronics Corp (聯電), said their production lines in Hsinchu and Tainan operated normally.
Memory chipmakers Nanya Technology Corp (南亞科技) and Micron Taiwan were also unaffected.
Local electronics makers, including Hon Hai Precision Industry Co (鴻海精密) and Quanta Computer Inc (廣達), as well as chip testers and packagers Siliconware Precision Industries Co Ltd (SPIL, 矽品精密), experienced short power outages.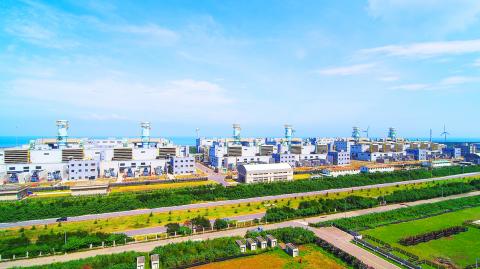 The gas-fired Datan Power Plant in Taoyuan's Guanyin District, with wind generators nearby, is shown in an undated photograph.
Photo courtesy of Taiwan Power Co
Advanced Semiconductor Engineering Inc (ASE, 日月光半導體), the world's biggest chip tester and packager, said its plants in Kaohsiung suffered a power outage for about one hour before production lines resumed.
ASE is still calculating the cost of lost production time.
ChipMOS Technologies Inc (南茂), the world's second-largest LCD driver IC packaging and testing service provider, said production lines were suspended for between two and three hours.
Telecom operators Taiwan Mobile Co (台灣大) and Chunghwa Telecom Co (中華電信) said their base stations were affected, but have resumed operations.
Far EasTone Telecommunications Co (遠傳電信) said no significant effects were seen, as it has back-up power units.
Following the outage, Lee tendered his resignation, which Premier Lin Chuan (林全) approved, Executive Yuan spokesman Hsu Kuo-yung (徐國勇) said.
A written resignation is to be delivered today or tomorrow after power generation problems are resolved, Hsu said.
The Cabinet had not yet decided who will succeed Lee, Hsu said.
Lin is to make a formal report about the power failure at the Legislative Yuan if the legislative caucuses consider it necessary, Hsu said.
The outage should not necessitate restarting nuclear reactors because there is no power shortage, Hsu said.
Some industrial parks and a science park in Miaoli County were affected, and authorities are calculating the losses, he said, adding that Taipower and CPC are expected to handle compensation.
Additional reporting by Chen Wei-han
Comments will be moderated. Keep comments relevant to the article. Remarks containing abusive and obscene language, personal attacks of any kind or promotion will be removed and the user banned. Final decision will be at the discretion of the Taipei Times.