Nuclear plant reactivation ruled out
POWER DOWN: The government is urging the public, businesses and public venues to save more power, as the electricity supply could flash red by Thursday or Friday
The government has ruled out reactivating suspended nuclear power plants to alleviate tightening electricity supplies due to storm damage, Minister of Economic Affairs Lee Chih-kung (李世光) said yesterday.
Typhoon Nesat and Tropical Storm Haitang brought down a Yilan County transmission tower, operated by the independent Ho-Ping Power Co (和平電力), which has reduced supply by 1.3 million kilowatts (kW), or about 4 percent of operating reserve, state-run Taiwan Power Co (Taipower, 台電) said.
The nation's power supply could flash a "red" warning — indicating that reserve capacity is less than 900,000kW — by Thursday or Friday because of the damage. Replacement capacity from other power plants is not expected in time, Taipower said.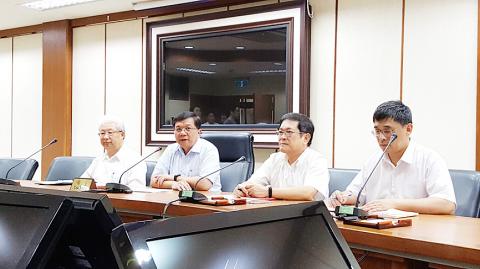 Minister of Economic Affairs Lee Chih-kung, second left, at a news conference yesterday in Taipei asks the public to reduce electricity consumption to help relieve pressure on the grid following damage to electricity pylons caused by Tropical Storm Haitang.
Photo: CNA
Reactivating two suspended nuclear power plants takes considerable time and is not viable as an immediate solution, Lee said at a news conference in Taipei with Energy Bureau and Taipower officials.
As temperatures are expected to rise across the nation this week, peak energy consumption could surge to 35.8 million kW, leaving only 758,000kW, or 2.12 percent, in reserve, Taipower said.
At the same time, expansions and upgrades at coal-powered plants in Kaohsiung's Dalin Township (大林), Taoyuan's Datan District (大潭) and Miaoli's Tongsiao Township (通霄) would not be complete in time to add to the energy reserve, Taipower said.
New power generators in Dalin require further testing, while heavy rainfall in June delayed construction at Datan, Taipower said.
The company is working with General Electric Co to overcome technical difficulties in Datan, Taipower added.
Although the three plants cannot alleviate energy needs this summer, they will help long-term power shortage concerns, Lee said, while calling on the public to improve energy conservation efforts.
Businesses and public venues are advised to set setting air conditioning at temperatures no less than 26?C and to close windows and doors, the Ministry of Economic Affairs said yesterday, adding that energy use that is not critical, such as landscape lighting and water fountains, should be kept to a minimum.
Violations could lead to fines of between NT$20,000 and NT$100,000, the ministry said.
Air conditioning in all government buildings is to be turned off between 1pm and 3pm daily for the next two weeks, Cabinet spokesman Hsu Kuo-yung (徐國勇) said.
Comments will be moderated. Keep comments relevant to the article. Remarks containing abusive and obscene language, personal attacks of any kind or promotion will be removed and the user banned. Final decision will be at the discretion of the Taipei Times.