Storms deal damage, injure 111
MAKING HISTORY: It was the first time since 1958 that two tropical storm systems made landfall in Taiwan within 24 hours, as Haitang continues its northwest trek
The southwest braced for strong winds and rain brought by Tropical Storm Haitang yesterday afternoon, less than 24 hours after Typhoon Nesat pummeled the nation, injuring 111 people.
According to the Central Weather Bureau, Haitang's eye made landfall in Pingtung County's Fonggang (楓港) at 4:40pm and was moving northwest at 12kph.
It was the first time since 1958 that two tropical storms made landfall in Taiwan within 24 hours.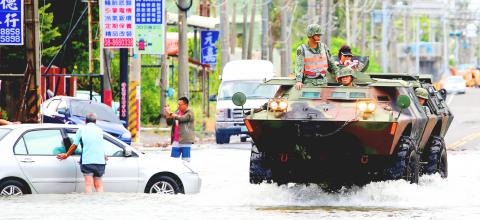 Soldiers deliver food and drinking water yesterday to people stranded in flooded areas in Pingtung County.
Photo: The Taiwan Military News Agency via EPA
The bureau projected that Haitang would move across the southeast and the central mountain range before reaching the west coast.
Residents in Nantou, Hualien and Taitung counties, as well as counties south of Chiayi, were on high alert for damage.
Although Haitang is to gradually weaken into a tropical depression, the bureau said that the southwest monsoon induced by the storm would continue to bring rain nationwide until Thursday.
Bureau statistics showed that both Nesat and Haitang have contributed to significant rainfall nationwide.
As of 6:15pm, Jiadong Township (佳冬) in Pingtung County had the highest accumulated rainfall of 640mm, followed by Taipingshan (太平山) in Yilan County (487mm) and the area south of Tianchi (天池) in Kaohsiung County (407mm).
Apart from Jiadong, heavy rains caused flooding in seven other townships in Pingtung County, which has suffered the most damage caused by the storms.
As of 7pm, the Central Emergency Operations Center reported that 111 people had been injured since Saturday.
About 1,300 people remain in shelters, it said, adding that power has yet to be restored to about 52,000 households.
The Civil Aeronautics Administration said that 267 domestic flights were canceled yesterday, while 138 international flights were canceled and 101 were either delayed or postponed.
The Maritime Port Bureau also reported that 163 shipping services were canceled yesterday and that 104 shipping services would be canceled today.
The Taiwan Railways Administration said the operation of the Alishan Forest Railway would be canceled for today.
As of 5pm, agricultural losses were estimated at NT$171.89 million (US$5.67 million). Yilan County, where Nesat made landfall, shouldered 68 percent of the loss.
It was followed by Pingtung County (24 percent), Hualien County (3 percent), New Taipei City (2 percent) and Taitung (1 percent).
The three most severely damaged crops were green onions (159 hectares), guavas (125 hectares) and bananas (233 hectares).
Nesat also damaged 199 schools nationwide, with the cost estimated at NT$17.8 million, data released yesterday afternoon by the Ministry of Education showed.
The highest percentage of schools reporting facility damage was in Yilan County, with 75 schools in need of repairs, followed by 66 schools in Taipei and 29 in New Taipei City.
Additional reporting by CNA
Comments will be moderated. Keep comments relevant to the article. Remarks containing abusive and obscene language, personal attacks of any kind or promotion will be removed and the user banned. Final decision will be at the discretion of the Taipei Times.