Causeway Bay Books to relaunch in Taipei
Hong Kong-based Causeway Bay Books is to reopen in Taipei next year, the store's former manager Lam Wing-kei (林榮基) said.
The politically progressive bookstore was forcefully closed last year following the detention of five of its staff, including Lam, by Chinese authorities.
"[The reopening] is symbolic of the resistance against China in the spirit of Causeway Bay Books," Lam said in an interview with the Chinese-language Liberty Times (sister newspaper of the Taipei Times).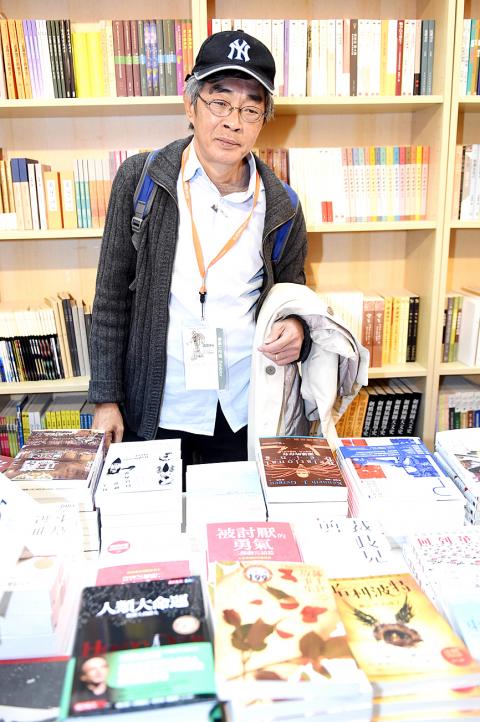 Hong Kong-based Causeway Bay Books former manager Lam Wing-kei looks at a display of books at an independent booksellers' symposium in Taipei on Feb. 9.
Photo: Sean Chao, Taipei Times
The store is to be sponsored by a Hong Kong democracy group that wished to remain anonymous and whose leader participated in the pro-democracy protest in the territory on July 1, Lam said.
The sponsor wants a swift reopening, but the "timing is not ideal," because "Taiwanese independent bookstores fare worse than their Hong Kong counterparts," Lam said, referring to a famed bookstore in Tainan that folded in April and another in Taipei that is facing a financial crisis.
Lam in February visited the city for the Taipei International Book Exhibition, but denied speculation that he would relaunch the bookstore in Taiwan.
However, he said the encouragement of Hong Kong pro-democracy advocates changed his mind.
"After some consideration, I think I am still capable of doing something, so I agreed. Running a bookstore is very interesting," he said.
During another visit in May, Lam visited several independent bookstores across the nation to learn about operating costs, which he said he would continue to investigate while in Taiwan next month.
The bookstore would be launched downtown and would be slightly bigger than before, he said, adding that it would feature sensitive books that are banned in China.
"Chinese tourists would be the target. [The location] has to be easy for them to visit and they could bring some books back to China," he said.
Lam said he would be personally involved in the store's operations until it is financially sustainable without sponsorship.
"Causeway Bay Books might reopen in Hong Kong" if its business in Taiwan thrives, he said.
Although China has reduced its surveillance of him, the retired Lam said he had to be "careful" because "the Chinese Communist Party is crazy and no one can predict its behavior."
Asked if he would immigrate to Taiwan, Lam said it would depend on whether China amends the Hong Kong Basic Law to allow the arrest of people suspected of treason, secession, sedition or subversion.
"I would have to run if China tried to arrest me according to this law. [Late Chinese rights activist] Liu Xiaobo (劉曉波) was in a terrible condition, which is what worries me the most," Lam said.
While average Hong Kongers can stay in Taiwan for up to three months, Lam was only permitted to stay for up to 10 days.
Lam said the government asked him to submit a report and itinerary for his entrance application, a complicated process that even Hong Kong journalist Ching Cheong (程翔), who was imprisoned by China for espionage charges, is exempted from.
The government in May had asked Lam not to publicly announce his visit and law enforcement officers accompanied him throughout his stay in Taiwan, Lam said.
Since Lam is a public figure, pre-visit security planning is necessary to prevent violent incidents such as the one in January against Hong Kong democracy activist Joshua Wong (黃之鋒) in Taiwan Taoyuan International Airport, the National Immigration Agency said.
Comments will be moderated. Keep comments relevant to the article. Remarks containing abusive and obscene language, personal attacks of any kind or promotion will be removed and the user banned. Final decision will be at the discretion of the Taipei Times.