Combat-ready helicopter squadron to enter service
The nation's first combat-ready helicopter squadron is to be formed on Wednesday, the Ministry of National Defense said.
Placed under the command of the Taoyuan-based Republic of China Army 601st Air Cavalry Brigade, 29 AH-64E Apache attack helicopters, which would eventually form two squadrons, were inspected by Lieutenant General Huang Kuo-ming (黃國明) ahead of an official ceremony on Wednesday.
Of two planned squadrons, the second is to be established first, as its pilots, equipment and training have met the ministry's standards after a series of tests, the ministry said.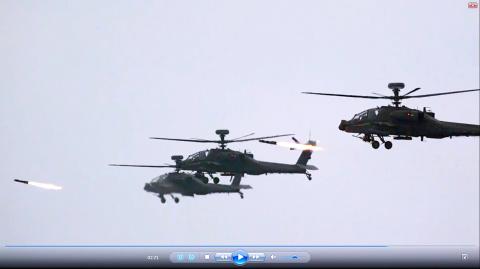 Apache helicopters fire missiles during the Han Kuang exercises on May 21.
Screengrab courtesy of the Army Command Headquarters
The squadron would be given separate insignia and gear to signify its role in independent operations, said a ministry official who declined to be named.
The first squadron is to temporarily serve as a reserve unit, the official said, adding that it has also passed all tests.
The first squadron is expected to be formally established by the end of the year, the official added.
The brigade has been upgrading its equipment and has proved that it has become a key contributor to the army's defense strategy, regardless of mobility, firepower and precision strike capability, the official quoted Huang as saying.
Huang hopes military officers would take stock of the unique characteristics of other units and incorporate them in different strategies and tactics, thus making the army a strong and modern military force, the official said.
Ministry officials declined to comment when asked whether the brigade would invite its sister unit in the US Army, the Hawaii-based 25th Combat Aviation Brigade, to attend Wednesday's event
The nation purchased 30 Apache helicopters for about US$2.5 billion under a deal announced in 2008 by then-US president George W. Bush.
One of the helicopters crashed in 2014.
Comments will be moderated. Keep comments relevant to the article. Remarks containing abusive and obscene language, personal attacks of any kind or promotion will be removed and the user banned. Final decision will be at the discretion of the Taipei Times.