Same-sex couples allowed nationwide registration
Same-sex couples will be allowed to complete household registration nationwide outside their area of residence as of July 3, the Ministry of the Interior said yesterday, even though several local governments continue to refuse to accept such registrations.
"Registration of same-sex partnerships will be saved in our database and the couple will receive an official document stating the date and their names," Department of Household Registration Affairs Director Wanda Chang (張琬宜) said. "Because couples have an official certificate, they will be able to sign hospital forms for one another and otherwise serve as each other's representatives, such as when applying for a passport."
The ministry is also considering further measures to grant same-sex couples new rights, but will stop short of anything affecting third persons — such as inheritance and adoption — until new legislation governing such relationships is passed, she said.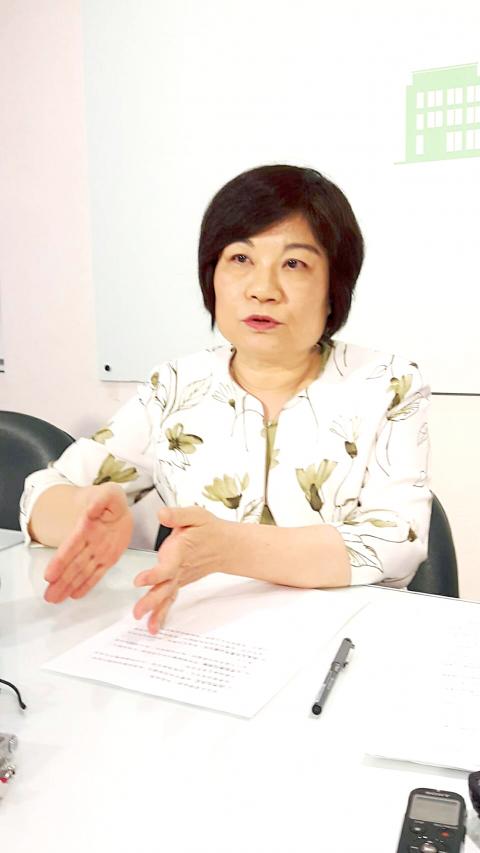 Executive Yuan Secretary-General Chen Mei-ling yesterday talks to reporters about the conclusions of the Cabinet's third meeting on the legalization of same-sex marriage.
Photo: Lee Hsin-fang, Taipei Times
The Executive Yuan is deliberating on whether household registrations would be retroactively recognized as a marriage or partnership following passage of new legislation, she said.
The Council of Grand Justices last month ruled that the Civil Code's failure to make provisions for same-sex partnerships is unconstitutional, which has started Executive Yuan deliberations on legalization of same-sex marriages.
Local government acceptance of same-sex couples household registrations began in Kaohsiung in 2015, with 11 local governments accepting such registrations before the Executive Yuan this month called for nationwide acceptance.
Six local governments have since begun accepting same-sex partnership registration, but Keelung and Yunlin, Hualien, Taitung and Penghu counties do not.
Local governments were able to decide whether to accept such registrations because of an absence of binding legislation, Chang said, adding that affected couples can register in neighboring locales.
As of the beginning of this month, local government's accepted household registrations from 2,060 same-sex couples, including 1,643 lesbian couples and 417 gay couples.
Comments will be moderated. Keep comments relevant to the article. Remarks containing abusive and obscene language, personal attacks of any kind or promotion will be removed and the user banned. Final decision will be at the discretion of the Taipei Times.