Asia Cement to cut Hualien mining operations by 40%
FRONT-PAGE SPREADS: The firm said it would reduce its Sincheng Township activities to about 250 hectares and be willing to undergo an environmental assessment
Amid a growing backlash against Asia Cement Corp's (亞泥) business interests in Taiwan, the company yesterday took out front-page advertisements in several Chinese-language newspapers to announce that it would reduce its mining operations in Hualien County by 40 percent.
The company said it would restrict its mining operations in Sincheng Township (新城) to about 250 hectares, 150 hectares less than the 400 hectares that the government has approved.
It said it would also agree to conduct an environmental impact assessment on its mining operations if necessary, once a proposed revision of the Mining Act (礦業法) passes the legislature.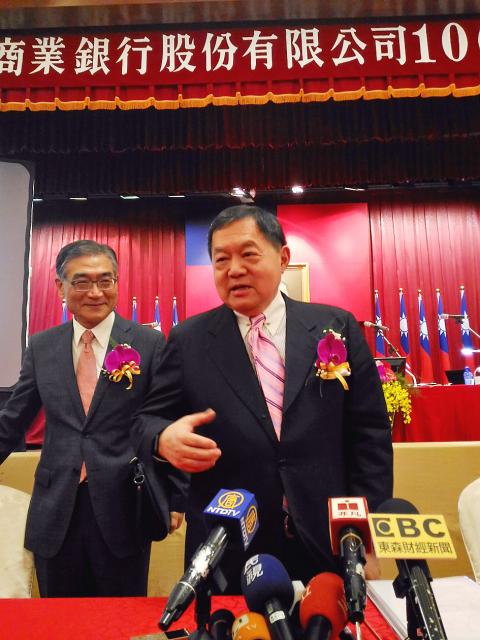 Far Eastern Group chairman Douglas Hsu, right, speaks at a shareholders' meeting in Taipei yesterday.
Photo: Lee Ching-hui, Taipei Times
The announcement came after Premier Lin Chuan (林全) on Wednesday said that the government would, in a week, review the renewal of the firm's mining rights.
There has been widespread criticism of the company's mining activities at the Sincheng site in the wake of the death of award-winning documentary filmmaker Chi Po-lin (齊柏林) on Saturday last week in a helicopter crash.
Chi's aerial footage of the Sincheng site had caused public outcry.
An online petition against the extension of the company's mining rights has collected more than 200,000 signatures, according to the Citizen of the Earth, Taiwan.
Asia Cement, a unit of Far Eastern Group (遠東集團), has had mining operations in eastern Taiwan for 60 years.
The Sincheng site, which includes a 25 hectare quarry in Taroko National Park, constitutes one of the nation's largest cement suppliers.
"Far Eastern would not withdraw investments from Taiwan [despite the event]," group chairman Douglas Hsu (徐旭東) told reporters yesterday at an annual general meeting of Far Eastern International Bank (遠東銀行) in Taipei.
The bank is also a subsidiary of the group.
The nation's economic situation is "acceptable," he said, adding that the group would continue all the ongoing investment projects in the domestic market.
The Ministry of Economic Affairs in March approved an extension to the Asia Cement's mining rights in the Sincheng operations for 20 more years without requiring the site to undergo an environmental impact assessment.
The revision of the Mining Act to require an environmental impact review for any request for additional mining is expected to be submitted to the Legislative Yuan after the next session starts in September.
An ongoing review of 42 mining projects is to be suspended until an amendment to the act is finished, according to the Cabinet
Shares of Asia Cement have fallen 4.72 percent from a week earlier, and fell 0.19 percent to close yesterday at NT$26.25 in Taipei trading.
Comments will be moderated. Keep comments relevant to the article. Remarks containing abusive and obscene language, personal attacks of any kind or promotion will be removed and the user banned. Final decision will be at the discretion of the Taipei Times.