HK democracy caucus formed at Legislative Yuan
JOINING HANDS: Joshua Wong and other 'Umbrella movement' activists attended the launch of the new group to promote shared democratic values
China's promise of self-rule for Hong Kong has degenerated into "one country, one-and-a-half systems," Hong Kong democracy campaigner Joshua Wong (黃之鋒) said yesterday in Taipei at the launch of a caucus on Hong Kong democracy at the Legislative Yuan.
"The reality is that Hong Kong's 'one country, two systems' has degenerated into 'one country, one-and-a-half systems.' We are very grateful that Taiwanese legislators are willing to express their support for us as the 20th anniversary of the transfer of [Hong Kong's] sovereignty to China and [Chinese President] Xi Jinping's (習近平) trip to Hong Kong draw near," said Wong, secretary-general of the Demosisto party and a leading figure in the territory's 2014 "Umbrella movement."
Wong, several Hong Kong lawmakers and other democracy campaigners from the territory attended the launch ceremony alongside caucus founder New Power Party (NPP) Executive Chairman Huang Kuo-chang (黃國昌) and other Taiwanese legislators.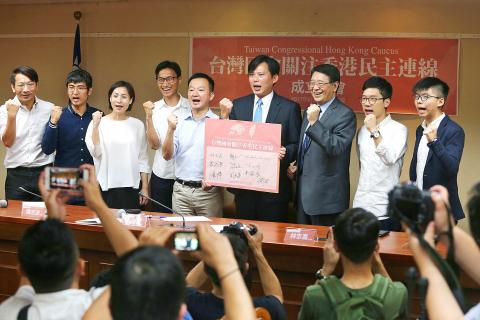 From left, New Power Party (NPP) Legislator Hsu Yung-ming, Hong Kong activist Alex Chow, NPP Legislator Kawlo Iyun Pacidal, Hong Kong lawmakers Eddie Chu and Raymond Chan, NPP Executive Chairman Huang Kuo-chang, Legislative Yuan Secretary-General Lin Chi-chia, Hong Kong Legislator Nathan Law and Hong Kong student activist Joshua Wang cheer at a news conference at the Legislative Yuan in Taipei yesterday after the announcement of the formation of a new caucus to focus on the territory.
Photo: CNA
"We hope this platform can focus on and provide some support to our Hong Kong friends as they fight for true democracy," Huang said.
However, he said that Hong Kong activists participated to "express their hopes" for the caucus rather than as formal members, setting it apart from numerous similar friendship associations between the Legislative Yuan and foreign parliaments.
"Today what we want to tell Hong Kong activists is that only the people of Hong Kong can change Hong Kong, but we can do everything in our power to share our histories, promote interchanges and express our support for common values," said Democratic Progressive Party (DPP) Legislator Wang Ding-yu (王定宇), who represented the party caucus at the meeting.
Public hearings on Hong Kong democracy and changes to the Act Governing Relations with Hong Kong and Macau (香港澳門關係條例) should be held to guarantee that activists are never banned from entering Taiwan because of their involvement in social movements, Huang said.
Huang and several other prominent Sunflower movement activists have been barred from entering Hong Kong, while activists from the territory, such as Wong, have been denied entry to several Southeast Asian countries.
"In the face of new challenges as a result of China's efforts to further isolate Hong Kong and Taiwan through the Asian Development Bank and the 'One Belt, One Road' [initiative], it has become even more pressing for progressive forces to pool their energies," said Alex Chow (周永康), another "Umbrella movement" leader, who reiterated calls for the Taiwanese government to formulate a policy treating Hong Kong as "more than just a part of China."
Demosisto Legislator Nathan Law (羅冠聰) urged President Tsai Ing-wen's (蔡英文) administration to issue an official statement on Hong Kong democracy as the 20th anniversary of the territory's handover nears.
"If the Taiwanese government would express its concern over Hong Kong's democratic self-government, we would be deeply encouraged," Law said. "While the Taiwanese government has its own concerns, we both share a firm belief in democratic self-government and the development of human rights. Supporting one another on these issues is very reasonable and should not backfire."
Hong Kong campaigners were also careful to draw a distinction between upholding common democratic values and supporting Taiwanese independence.
"We want to have more interchanges with friends in different Taiwanese parties who share our belief in democracy, freedom and human rights — so we are not linking up with independence forces, so much as sharing democratic progressive values," Wong said.
"We need to be united and share our experiences as we are faced with suppression," Wong added.
The new caucus has 18 members, five from the NPP and the rest from the DPP. No Chinese Nationalist Party (KMT) or People First Party legislator has joined.
"Of course, we support democratic procedures and activities, but Hong Kong involves cross-strait relations, so it is a lot more complicated than ordinary parliamentary exchanges, and we should be more careful because we still need to put Taiwan's own interests first," KMT caucus secretary-general Lin Wei-chou (林為洲) said.
However, the KMT caucus would "discuss and evaluate" whether to give its support, Lin said.
Mainland Affairs Council Deputy Minister Chiu Chui-cheng (邱垂正) said the government continues to pay close attention to the development of democracy in Hong Kong, including urging China to heed calls for universal direct elections and avoid passing legislation to implement the territory's Basic Law provisions against secession and rebellion.
However, the government this year plans to follow precedent and express its views via an annual "observation report" on Hong Kong, he said, adding that the council would sponsor forums and respond to legislative questioning.
Additional reporting by staff writer
Comments will be moderated. Keep comments relevant to the article. Remarks containing abusive and obscene language, personal attacks of any kind or promotion will be removed and the user banned. Final decision will be at the discretion of the Taipei Times.