Asian nations band together to hedge against China threat
JOKER IN THE PACK: Regional officials said they were worried by Trump's unpredictability and his warm praise of Chinese President Xi Jinping
Several Asian nations are seeking to bolster informal alliances among themselves, regional diplomats and officials said, unsettled by growing fears that the US could not be relied on to maintain a buffer against China's assertiveness.
Countries including Australia, Japan, India and Vietnam are quietly stepping up discussions and co-operation, although taking care they do not upset Beijing, the diplomats said.
No one was yet talking about a formal alliance.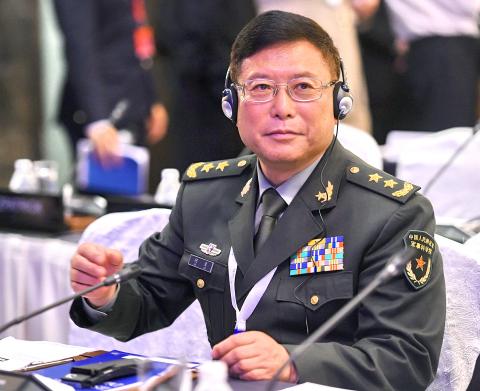 China's Lieutenant-General He Lei yesterday attends a meeting as part of the Shangri-La Dialogue Summit in Singapore.
PHOTO: AFP
Inaugurating the weekend Shangri-La Dialogue, the region's premier security forum, Australian Prime Minister Malcolm Turnbull said: "In this brave new world we cannot rely on great powers to safeguard our interests."
"We have to take responsibility for our own security and prosperity while recognizing we are stronger when sharing the burden of collective leadership with trusted partners and friends," he said.
His comments resonated through the three-day meeting that ended yesterday.
US Secretary of Defense Jim Mattis told the Singapore forum that Washington remained committed to the region and insisted it would oppose China's militarization of the disputed South China Sea, one of Asia's most volatile hot spots.
Regional officials said they were worried by US President Donald Trump's unpredictability and concerned that his warm praise of Chinese President Xi Jinping (習近平) after their first summit meeting in April would influence decisions on Asia.
"We trust Mattis and we trust [US Pacific Commander Admiral Harry] Harris but at the very top? The trust gap is very wide," one senior Asian military officer said. "Our fear is driven by the reality that it is only the US that is powerful enough to set red lines with China."
In broad terms, Singaporean Minister of Defense Ng Eng Hen (黃永宏) confirmed accelerated co-operation among partners, but he also said he welcomed Mattis' reassurances.
"Countries look at the landscape and you adjust, and that's what good leadership does ... you put yourself in a position so if there are changes, you are not caught completely off-guard," Ng said at a news conference yesterday.
Australia, New Zealand, Britain, Malaysia and Singapore re-energised their Five Powers Defence Agreement on the weekend, with officials saying they wanted to better link new military capabilities, as well as boost counter-terrorism efforts and maritime security.
Beijing sent a low-key delegation to the Shangri-La forum this year, but its officials were warily watching developments and warning of "Cold War thinking" behind moves to strengthen alliances.
"It's a Cold War mentality to use alliances to check on China," said Senior Colonel Zhao Xiaozhuo (趙小卓), of the People's Liberation Army's Academy of Military Science. "It's creating some sort of threat and using China as a threat is a huge mistake."
Comments will be moderated. Keep comments relevant to the article. Remarks containing abusive and obscene language, personal attacks of any kind or promotion will be removed and the user banned. Final decision will be at the discretion of the Taipei Times.