President urged to declare sovereignty
PRECEDENT? Missing rights advocate Lee Ming-che's case is a landmark, as it is the first time China has charged a Taiwanese with subverting state power, an academic said
President Tsai Ing-wen's (蔡英文) administration should publicly declare sovereignty in response to Chinese pressure and the detention of Taiwanese human rights advocate Lee Ming-che (李明哲), members of the pan-green camp and academics affiliated with the Taiwan Association of University Professors said yesterday.
"If the Democratic Progressive Party [DPP] maintains its stance on cross-strait relations in the vain hope of getting a positive response from China, we would just end up in a passive game of dodgeball, being continually pummeled by whatever China decides to send our way," association president Lin Hsiu-hsin (林秀幸) said, adding that China's arrest of Lee was a "test" that could pave the way for further aggression.
Lee, an instructor at Taipei's Wenshan Community College who formerly worked as a DPP aide, has been held incommunicado by China since March on charges of "subverting state power."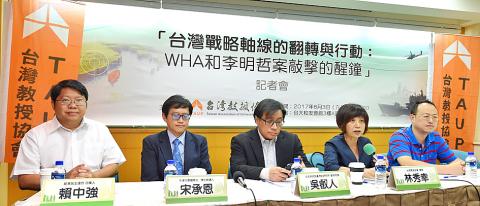 Taiwan Association of University Professors president Lin Hsiu-hsin, second right, is joined by Economic Democracy Union convener Lai Chung-chiang, left, National Chengchi University international legal studies researcher Raymond Sung, second left, Wu Rwui-jen, a researcher at Academia Sinica's Institute of Taiwan History, third left, and Taipei North director Kao Jen-shan at a press conference in Taipei yesterday discussing Taiwan's rejected bid for participation at the WHA last month and the detention of human rights advocate Lee Ming-che in China.
Photo: Liu Hsin-de, Taipei Times
His wife, Lee Ching-yu (李凈瑜), says he went to China to share Taiwan's democratization experience.
Lee Ming-che's case is a landmark, as it is the first time Chinese officials have charged a Taiwanese with subverting state power, Economic Democracy Union convener Lai Chung-chiang (賴中強) said, adding that the precedent could easily be extended to charging Taiwanese with engaging in "secessionist activities."
Bans on subverting state power, armed rebellion and secessionist activities are all included in China's criminal code and have maximum sentences of life in prison, he said.
"When Chinese authorities announced that they were going to charge Lee with subverting state power, they also effectively announced to all Taiwanese that they can now lay their hands on us directly using their criminal code, rather than using indirect economic pressure and sanctions," he said, adding that the vague legal wording could allow Chinese authorities to arbitrarily imprison the majority of Taiwanese.
"Almost all of Taiwan's older generation were in the China Youth Corps [known as the China Youth Anti-Communist National Salvation Corps until 2000], whose mission was to overturn the Chinese Communist Party (CCP) regime. Many younger people — including virtually every member of the DPP — could also be imprisoned on charges of engaging in 'secessionist activities,'" he said.
He urged Taiwanese to boycott the upcoming cross-strait forum to protest Chinese efforts to drive Tsai's administration to the bargaining table and create an impression among the global community that Taiwanese are subject to Chinese jurisdiction.
National Chengchi University's Research Center for International Legal Studies researcher Raymond Sung (宋承恩) asked if the government's stance of upholding the sovereignty of Taiwan as the "Republic of China" was wise in the face of Chinese moves to restrict the nation's international space, including preventing the nation's delegation from attending a meeting of the World Health Assembly last month.
"Their position is very clear — the only formula for us to participate is be considered a Chinese province and even then we still have to get an explicit Chinese nod — which is an even lower status than Hong Kong's, which has formal written rights to participate in certain arenas," he said. "The key question is whether or not Taiwan has the resolve to face China using the identity of a sovereign state — if not, what other options do we have?"
"Sovereignty is not static, it is the result of dynamic interaction and conflict between domestic and international forces and actors," Academia Sinica's Institute of Taiwan History associate research fellow Wu Rwei-ren (吳叡人) said, calling for Tsai's administration to take action to actively build up national sovereignty, rather than focus on preserving a cross-strait "status quo."
"Because we lack the protection of international law, failing to actively take steps to build up our sovereignty and preserve our sovereign status will inevitably lead to regression — there really is no way to strictly maintain the 'status quo,'" Wu said.
New Power Party Secretary-General Chen Hui-min (陳惠敏) called for Tsai's administration to take steps to actively promote national sovereignty before the CCP's 19th National Congress later this year.
The Tsai administration's freedom to act would only be further restricted when Chinese leaders' hands are freed from internal political distractions following the congress' conclusion, she said.
Comments will be moderated. Keep comments relevant to the article. Remarks containing abusive and obscene language, personal attacks of any kind or promotion will be removed and the user banned. Final decision will be at the discretion of the Taipei Times.