Bodies dumped by Muslim rebels near Philippine city
Bodies of what appeared to be executed civilians were found in a ravine outside a besieged Philippine city yesterday as a six-day occupation by Muslim militant rebels fending off a military onslaught took a more sinister turn.
The eight dead, most of them shot in the head and some with hands tied behind their backs, were laborers who were stopped by Islamic State-group linked militants on the outskirts of the city of Marawi while trying to flee clashes, police said.
Nine spent bullet casings were found on a blood-stained patch of road at the top of the ravine.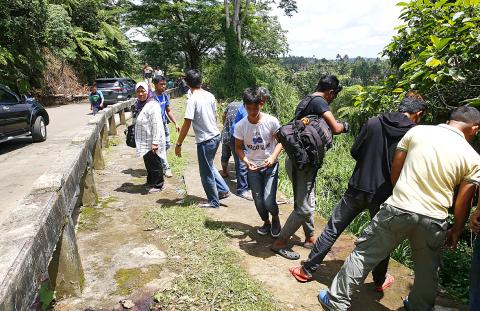 Onlookers take photographs of the bodies of eight men who were found gunned down and thrown in a shallow ravine yesterday in Marawi, southern Philippines.
Photo: AP
Attached to one of the bodies was a sign that said "Munafik" (traitor).
The discovery confirms days of speculation that Maute rebels had killed civilians during a takeover of Marawi, that the military believes is aimed at winning the Maute recognition from the Islamic State group as a Southeast Asian affiliate.
Over the weekend, the army deployed more ground troops and dispatched army and air force helicopters to carry out rocket strikes on Maute positions as fighters held buildings and a bridge deep inside the predominantly Muslim city where few civilians remained.
Some of those trapped in Marawi had called and text-messaged a hotline pleading with the military to stop the airstrikes, according to Zia Alonto Adiong, a local politician coordinating complex efforts to evacuate civilians, dead and alive.
"Some have no food at all. Some fear for their lives," he told reporters. "This is a conflict that has gone beyond proportion. The magnitude of the degree of the damage and the people that are affected ... it's really massive."
At least 61 militants were killed and 15 security personnel as of Saturday, the army said.
At the ravine where the bodies were found, Marawi police officer Jamail Mangadang said the victims were carpenters who were part of an evacuation convoy stopped by rebels late on Saturday.
Referencing information provided by their manager, Mangadang said the victims were pulled off a truck because they were unable to recite verses of the Koran.
The military said it was possible there were other victims.
"This development validates a series of reports of atrocities committed by the militants earlier," military spokesman Restituto Padilla said. "We are still validating other reports of atrocities."
Philippine President Rodrigo Duterte yesterday canceled a trip to Japan to address the unrest in Mindanao, an island of 22 million people where martial law has been declared.
Comments will be moderated. Keep comments relevant to the article. Remarks containing abusive and obscene language, personal attacks of any kind or promotion will be removed and the user banned. Final decision will be at the discretion of the Taipei Times.