Foreign cram-school teachers to face tighter rules
Foreigners planning to work for cram schools as language teachers are to be required to provide documents issued by their home countries guaranteeing good conduct, the Ministry of Education said yesterday.
Department of Lifelong Education Director Huang Yueh-li (黃月麗) said the ministry has submitted a proposed amendment to the Supplementary Education Act (補習及進修教育法) to the legislature for review.
The Education and Culture Committee yesterday approved the draft amendment to Article 9 of the act that would tighten regulations on cram-school teachers to ensure the safety of students.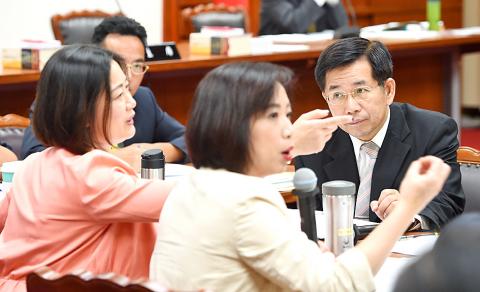 Minister of Education Pan Wen-chung, right, yesterday listens as legislators discuss regulations regarding the management of cram schools and their teachers during a meeting of the legislature's Education and Culture Committee.
Photo: Liu Hsin-de, Taipei Times
If passed, the amendment would require first-time applicants for teaching jobs at private institutions to provide documents proving that they had demonstrated good conduct prior to entering the nation.
While the information in the documents may vary from one nation to another, it should be able to prove that applicants have not committed any crimes within a certain period before they are allowed to enter the nation and begin the interview process, Huang said.
Cram schools are to be required to submit the documents to the Ministry of Labor for review, she said, adding that rules governing foreign teachers' entry and employment would have to be amended.
Taiwan would not the first nation to require expatriates to provide records documenting good behavior when they apply for teaching posts, as other Asian nations, such as Japan and South Korea, have adopted similar policies, she said.
The rule change would not affect foreigners who are already working as teachers at private institutes, who are required to provide Police Criminal Record Certificates issued by the Ministry of the Interior showing that they have not committed any criminal offenses in Taiwan in the three months prior to their employment, she said.
Chinese Nationalist Party (KMT) Legislator Ko Chih-en (柯志恩), who is the convener of the committee, said that foreigners in other lines of work who want to pursue a teaching career would also need to request documents guaranteeing good conduct from the authorities in their home nation.
Ko said she hoped the draft would pass the second and third readings this legislative session.
The draft amendment also includes a penalty of NT$50,000 for institutes that fail to report cases of sexual harassment or assault perpetrated by their employees.
The ministry proposed the amendment amid widespread controversy over the suicide of author Lin Yi-han (林奕含) last month, allegedly due to the trauma she sustained after being raped by a cram-school teacher when she was 17.
Comments will be moderated. Keep comments relevant to the article. Remarks containing abusive and obscene language, personal attacks of any kind or promotion will be removed and the user banned. Final decision will be at the discretion of the Taipei Times.