Terry Gou filmed leaving White House
TIGHT-LIPPED: Terry Gou dodged reporters' questions on whether he met with US President Donald Trump, saying his memory is not good and he 'already forgot'
Top executives of Foxconn Technology Group (富士康), including founder and chairman Terry Gou (郭台銘), visited the White House on Thursday, Taiwanese TV footage showed, as the Apple Inc supplier ponders a multibillion-dollar investment in a panel plant in the US.
Footage aired by TVBS yesterday showed Gou entering and leaving one of the entry gates of the White House with senior company executives, including Foxconn vice chairman Tai Jeng-wu (戴正吳), also head of Japanese firm Sharp Corp, in which Foxconn holds a two-thirds stake.
When asked by reporters on his way out of the White House if he had met with US President Donald Trump, Gou said: "My memory is not good. Maybe I already forgot."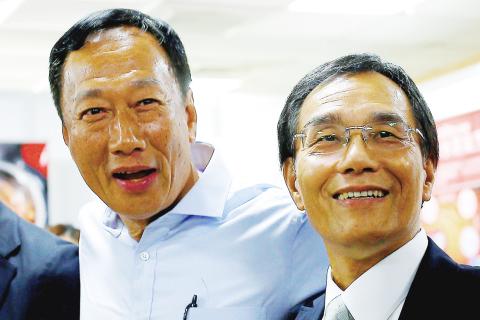 Hon Hai Precision Industry chairman Terry Gou, left, poses with Sharp chief executive officer Tai Jeng-wu at a Sharp showroom in New Taipei Cityon June 22 last year.
Photo: Reuters/Tyrone Siu
Gou was at the White House for about three hours, TVBS said.
Foxconn, the world's largest contract electronics maker which is known as Hon Hai Precision Industry Co (鴻海精密) in Taiwan, declined to comment on the TV footage.
Gou in January said that Foxconn was mulling setting up a US plant making flat panels with an investment that would exceed US$7 billion.
Gou made the comment after Foxconn's business partner, Masayoshi Son, the head of Japan's Softbank Group Corp, pledged to invest US$50 billion in the US when he met Trump in December last year, accidentally showing reporters papers that had Foxconn's logo on them.
While Foxconn has not disclosed a timeline for a decision on the plant, it would depend on many factors, such as investment conditions that would have to be negotiated at the state and federal levels, Gou has said.
An unnamed source in February told reporters that Sharp might start building the plant in the first half of this year.
Foxconn is also one of the suitors looking to acquire Toshiba Corp's chip business, but people familiar with the matter have told reporters that would be considered a national security risk due to its ties with China, where it has vast manufacturing facilities and employs about 1 million people.
The bidding has also been complicated by Toshiba's US partner, Western Digital Corp, which has said it should be given exclusive negotiating rights.
Comments will be moderated. Keep comments relevant to the article. Remarks containing abusive and obscene language, personal attacks of any kind or promotion will be removed and the user banned. Final decision will be at the discretion of the Taipei Times.