Pxmart targeted by bomb threat after wage remarks
'LIFE IS TOUGH': Company president Hsu Chung-jen said young people complain about low wages, but spend beyond their means on trips abroad and phones
Authorities yesterday said they were investigating comments posted online allegedly threatening to bomb Pxmart (全聯實業) supermarkets in Taipei City and New Taipei City after the company head made comments about young people spending beyond their means.
The police said a post on Thursday afternoon on the Bahamut forum by a netizen named "Left-wing Agent," which allegedly threatened indiscriminate bombings at Pxmart supermarkets, breached Article 305 of the Criminal Code.
"I will blow up anyone who goes to Pxmart," the comment said.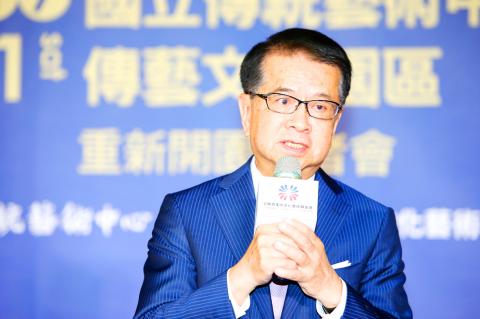 Pxmart president Hsu Chung-jen speaks at a news conference in Yilan County on Jan. 11.
Photo: Chen Yi-kuan, Taipei Times
Investigators would track down the author of the post via the IP address and forum registration information, police said, adding that the person responsible would be questioned.
The alleged bomb threat was in response to Pxmart Co Ltd president Hsu Chung-jen's (徐重仁) comments regarding low salaries.
Hsu said at a book launch on Thursday that young people complain about low wages, but spend beyond their means on trips abroad, the latest mobile phones and the newest accessories.
"Young people like to spend money and are more commonly seen at international airports than their parents' generation was," Hsu said.
"Everyone wants to spend more, but they should not spend what they do not have," he said.
Hsu said that when he joined the workforce in 1977, he made only NT$9,000 per month and had to balance his salary against a mortgage and daily necessities.
While life was tough, "it was a temporary situation, as the boss would give you a raise if you worked hard," he said.
Hsu later posted an apology on Facebook after sparking a backlash among young people.
He said he misspoke and his words were not ill-intentioned, but were too didactic — spoken in a tone more appropriate for a father addressing his son.
Hsu said the incident led him to reflect whether he — and those of his generation — tend to pass judgement too quickly on the younger generation.
Hsu said he hoped to speak less, listen more, and seek to understand the younger generation, adding that maybe his apology would dispel the notion that Taiwanese bosses never admit to error.
Hsu's apology earned favor among netizens, with some jokingly asking for a raise from a Pxmart Facebook group administrator.
However, some netizens were not in a forgiving mood.
They said that Hsu's words were like criticizing people in the town square and apologizing in an alley.
Meanwhile, Pxmart said that business yesterday was normal and there had not been any impact from Hsu's comments.
Comments will be moderated. Keep comments relevant to the article. Remarks containing abusive and obscene language, personal attacks of any kind or promotion will be removed and the user banned. Final decision will be at the discretion of the Taipei Times.