Legislators pass resolution on Lee Ming-che detention
A legislative committee yesterday passed a resolution urging the government to explore all diplomatic channels to free Taiwanese human rights advocate Lee Ming-che (李明哲), who is being detained in China.
The Foreign Affairs and National Defense Committee passed a motion asking the Ministry of Foreign Affairs and other agencies to lobby US and European politicians, and seek the help of non-governmental organizations (NGOs).
Lee went missing on March 19. Ten days later, Beijing said he had been detained for engaging in activities "endangering national security," but did not reveal where he was being held.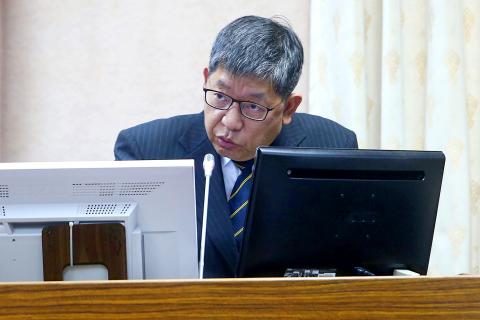 Mainland Affairs Council Deputy Minister Lin Cheng-yi yesterday tells the legislature's Foreign Affairs and National Defense committee in Taipei that the council has a variety of measures in place in the wake of Lee Ming-che's detention in China last month.
Photo: CNA
Democratic Progressive Party (DPP) Legislator Wang Ding-yu (王定宇), who proposed the motion, asked if the ministry had sought international assistance in the case.
"No such efforts have been made," a ministry official said.
"It is the government's duty to explore all possible means to free its citizens, but the ministry has done nothing 24 days after [Lee's detention]. What is the use of a government that cannot protect its citizens?" Wang said.
He asked the ministry to seek assistance from members of the US Congressional Taiwan Caucus and the US Department of State's Bureau of East Asian and Pacific Affairs to pressure Beijing to release Lee.
Wang asked Mainland Affairs Council Deputy Minister Lin Cheng-yi (林正義) if the council had drafted any countermeasures after China ignored the cross-strait judicial agreement and illegally detained a Taiwanese.
Lin said only that the council has "a variety of measures in place."
New Power Party Legislator Freddy Lim (林昶佐) questioned whether the nation has improved its response system since the arrest of Taiwanese Falun Gong practitioner Bruce Chung (鍾鼎邦) by Chinese security forces in 2012.
Lim said the council should set up a task force to plan and implement countermeasures should Taiwanese "disappear" in China, such as launching a global rescue campaign with the help of NGOs.
"China has trashed the Cross-Strait Joint Crime-Fighting and Judicial Mutual Assistance Agreement (海峽兩岸共同打擊犯罪及司法互助協議) in Lee's case. The council has to take action, instead of simply making statements, or China will be emboldened [by Taiwan's inaction]," DPP Legislator Tsai Shih-ying (蔡適應) said.
The government informed Beijing of the arrest of Chinese citizen Zhou Hongxu (周泓旭), who was accused of forming a spy ring in Taiwan, while ensuring Zhou's legal rights in accordance with the agreement, but China has yet to reveal why Lee was arrested and where he is being held, Tsai said.
Separately, at a meeting of the DPP Central Standing Committee, President Tsai Ing-wen (蔡英文) said the government was making every effort to seek Lee's release.
Comments will be moderated. Keep comments relevant to the article. Remarks containing abusive and obscene language, personal attacks of any kind or promotion will be removed and the user banned. Final decision will be at the discretion of the Taipei Times.