Scores feared dead after Iraq airstrikes
By the time rescuers finally arrived no one was left alive. For almost one week desperate neighbors had scraped through the rubble, searching for as many as 130 people who lay buried after three homes in a west Mosul suburb were destroyed by coalition airstrikes.
The full picture of the carnage continued to emerge on Friday, when at least 20 bodies were recovered. Dozens more are thought to remain buried in what could turn out to be the single most deadly incident for civilians in the war against the Islamic State (IS) group.
Rescuers at the scene in the suburb of Mosul Jadida said they had driven the 400km from Baghdad, but had not been able to enter the area until Wednesday, five days after airstrikes hit the houses where local residents had been sheltering from fierce fighting between Iraqi forces and IS.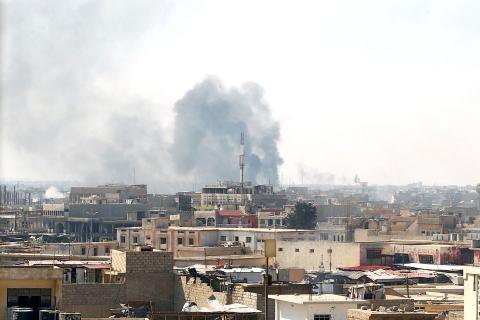 Smoke billows following coalition airstrikes on Mosul on Friday.
Photo: AFP
Neighbors said at least 80 bodies had been recovered from one house, where people had been encouraged by local elders to take shelter.
Rescuers were continuing to dig through the ruins and the remains of two other houses nearby, which had also been pulverized in attacks that were described as "relentless and horrifying."
The US military said it was launching an investigation.
Cololnel Joseph Scrocca, from the US-led command in Baghdad, said "the coalition has opened a formal civilian casualty credibility assessment on this allegation" from Mosul.
The destruction took place in a district that was last week a frontline in the battle for Mosul. Locals said militants had positioned a sniper on the roof of the home that had sheltered the largest number of people.
"We all know each other, and most of us are related," said Majid al-Najim, 65, as he stood next to the corpse of his nephew in a local cemetery.
"And all of the families were in one of three houses. We are from the Jabour, Dulaim and Tai families. On that day, the airstrikes started around 8am. We originally hid in that house, but we left before the planes came back. There was three hours between us and death," he said.
"The days after were horrible. There were children shouting under the rubble. Nobody came to help them. The police told us yesterday that there was nothing they could do," he said.
Subhan Ismail Ibrahim said his wife and three children had been killed in the same house.
"One child was four, the other one year old and the third less than three months," he said.
Speaking with a stony calm, he added: "I have lost them all, and the world must know what happened to them."
Iraqi officers have been largely responsible for requesting airstrikes, which are then coordinated with US-run operations centers after approval from senior commanders.
Coalition air spotters often guide the bombs to designated targets.
Comments will be moderated. Keep comments relevant to the article. Remarks containing abusive and obscene language, personal attacks of any kind or promotion will be removed and the user banned. Final decision will be at the discretion of the Taipei Times.