DPP urges China to account for missing Taiwanese activist
China's failure to respond on the matter of a Taiwanese man missing in China is causing his family "anxiety and panic," the Democratic Progressive Party (DPP) said yesterday, as it called on authorities to protect the rights of Taiwanese.
Concern has risen in Taiwan about the whereabouts of Lee Ming-che (李明哲), a community college worker known for supporting human rights in China who disappeared on Sunday last week after entering China's Zhuhai city via Macau.
Chinese authorities had repeatedly said they would protect the rights of Taiwanese in China in accordance with the law, the DPP said.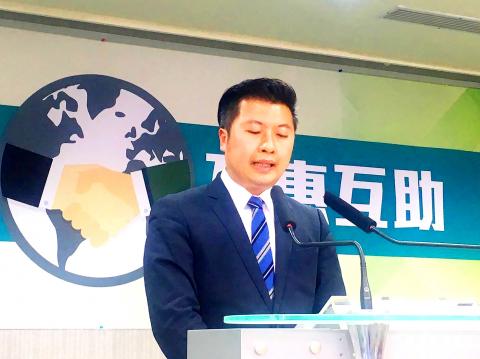 Democratic Progressive Party spokesman Chang Chih-hao speaks at a news conference in Taipei in this file photo dated January 18 this year.
Photo: Su Fang-ho, Taipei Times
"But after six days, there has been no official response by China to requests for consultations about the search by our government and his family," DPP spokesman Chang Chih-hao (張志豪) said in the party's strongest statement yet on Lee's disappearance.
"This has caused the family anxiety and panic," Chang said.
The party called on Chinese authorities to respond promptly to requests for cooperation and "effectively protect human rights and not increase the risk of Taiwanese traveling to China," Chang said.
The Straits Exchange Foundation and the Mainland Affairs Council have said they have been unable to raise a response from their Chinese counterparts over Lee's case.
Lee's case raised questions about the safety of people working with civic society in China, Amnesty International's East Asia director Nicholas Bequelin said.
Lee had been supporting organizations and rights advocates in China for years, but went to China this time for personal matters related to his mother-in-law's medical condition, Amnesty International said.
"If Lee Ming-che has been detained, then please tell me the charges," Lee's wife, Lee Ching-yu (李淨瑜), said at a news conference on Friday organized by the Taiwan Association for Human Rights.
"Please tell her if her husband is alive or dead, where is he," the rights group said in a statement.
Comments will be moderated. Keep comments relevant to the article. Remarks containing abusive and obscene language, personal attacks of any kind or promotion will be removed and the user banned. Final decision will be at the discretion of the Taipei Times.