Protesters decry Aboriginal committee
TODAY'S THE DAY: Presidential Office Deputy Secretary-General Yao Jen-to said that it was not fair to judge the office's committee before it even had a chance to meet
The Presidential Office's committee for Aboriginal historic and transitional justice issues, which is due to hold its first meeting today, has not sufficiently researched the issues it is to discuss, an Aboriginal rights campaigners said yesterday.
There cannot be justice if the committee does not truly understand all of the facts, they said, adding that they are concerned the meeting will lead to little more than the chanting of slogans.
Criticizing the government's failure to include private land within the scope of the legal definition of traditional Aboriginal territory, a group of campaigners has been staging a "sleepout" on Ketagalan Boulevard in front of the Presidential Office Building since Feb. 23.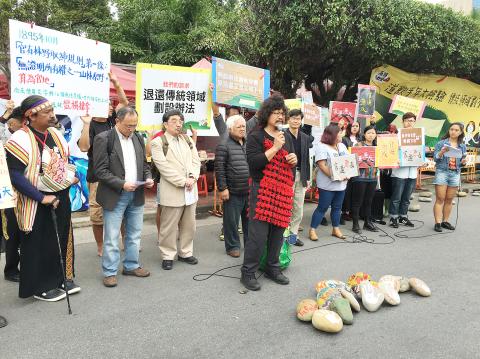 Aboriginal rights campaigners, including singer Nabu Husungan Istanda, left, singer/songwriter Kimbo Hu, fourth left, and documentary filmmaker Mayaw Biho, holding microphone, hold a news conference on Ketagalan Boulevard in Taipei yesterday as part of their ongoing protest against the government's definition of traditional Aborginal land and its committee for Aboriginal historic and transitional justice issues.
Photo: CNA
They yesterday reiterated their demands that the government retract the proposed Aboriginal land guidelines announced on Feb. 14 and called for the resignation of Council of Indigenous Peoples Minister Icyang Parod.
Documentary filmmaker Mayaw Biho, an Amis, said the government should recognize that transitional justice is about reconciliation, adding that such reconciliation is impossible if the government has not properly investigated the issues.
The government has been idle in addressing Aboriginal issues, he said, noting that today's meeting comes seven months after President Tsai Ing-wen (蔡英文) made an apology to the nation's Aborigines.
"Twelve very brave committee members initially submitted proposals for discussion related to traditional Aboriginal land, but all 12 later withdrew their proposals," Indigenous Youth Front member Savungaz Valincinan said.
Tsai emphasized her support for Aboriginal land rights while she was campaigning for the presidency, National Dong Hwa University professor Shih Cheng-feng (施正鋒) said, adding that the private land excluded by the guidelines accounts for half of traditional Aboriginal land in the nation.
"The guidelines leave no room for Aborigines to even voice an opinion," Shih said.
Biho concurred, adding: "Traditional land is very important to Aboriginal communities and with the guidelines they are going to lose a million hectares of land."
He called on Tsai to review the issue carefully, adding that the protesters would continue their sleepout until the committee produces a more just proposal on Aboriginal land guidelines.
The committee spent four months waiting for each Aboriginal community to appoint their representatives to the committee meeting, Presidential Office Deputy Secretary-General Yao Jen-to (姚人多) said.
It is unfair to the committee for it to be judged as illegitimate or unrepresentative before it has the chance to meet, as well as not helpful in terms of establishing lines of communication, Yao said.
Transitional justice measures take time, Yao said.
While many have criticized the committee as being a "toothless tiger," citing its lack of legal authority to conduct investigations, Democratic Progressive Party Legislator Kolas Yotaka, an Amis, yesterday said the committee's investigation report would nevertheless have a great impact on transitional justice measures and history education.
Even though the committee does not have investigative authority that the police have, it can conduct research based on academic materials, government records and the oral history of Aboriginal communities.
Such research efforts have helped uncover 400 years of history of the Aborigines in Taiwan and would help carry out transitional justice measures related to Aboriginal communities, she said.
The results of the research should be collated and included in textbooks to tell a more inclusive history of the peoples of the nation, the lawmaker said.
Comments will be moderated. Keep comments relevant to the article. Remarks containing abusive and obscene language, personal attacks of any kind or promotion will be removed and the user banned. Final decision will be at the discretion of the Taipei Times.