Protesters call for action to achieve nuclear-free nation
More than 1,000 people yesterday participated in Taipei's annual march against nuclear power, demanding that President Tsai Ing-wen's (蔡英文) administration outline a timeline and concrete steps to realize its promise of a "nuclear-free homeland."
Protesters wearing yellow armbands and headbands rallied in front of the Presidential Office Building along Ketagalan Boulevard before marching through central Taipei, winding their way past the Legislative Yuan before returning to Ketagalan for an evening of speeches and performances.
The demonstrators shouted slogans calling for the abolition of nuclear power in favor of alternative forms of low-carbon footprint and alternative energy sources, with some campaigners saying that the government has failed to outline how it intends to realize the promised "nuclear-free homeland."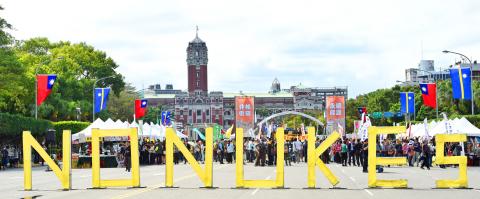 A cutout sign that reads "No nukes" stands on Ketagalan Boulevard in front of the Presidential Office Building in Taipei yesterday.
Photo: Liu Hsin-de, Taipei Times
"We are here to remind the government to not forget its promises, because all that we have seen so far are extremely tentative plans. We hope that it will move more quickly, because it is still unclear whether its promises can be realized by the end of the current four-year term," said Green Citizens' Action Alliance secretary-general Tsuei Su-hsin (崔愫欣), who served as spokesman for the protest.
"We want to see laws passed, because there is no guarantee that the Democratic Progressive Party [DPP] will win another term," she added.
She called for the passage of legislation to govern nuclear waste disposal, as well as a new energy tax and the removal of nuclear waste from Orchid Island (Lanyu, 蘭嶼).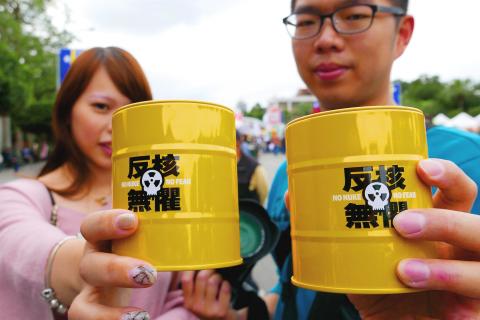 Participants in Taipei's annual march against nuclear power yesterday hold up two nuclear waste barrels models that were given away at the demonstration.
Photo: CNA
Numerous other environmental groups set up booths along Ketagalan Boulevard, with representatives of different self-help associations joining the march.
"The point of today's march is to join together to push forward what the government has not done yet, so it is a bit different from the past, when we were directly opposed to the national government," Northern Coast Anti-Nuclear Action Alliance executive director Kuo Ching-lin (郭慶霖) said, calling for the establishment of a new government body to handle nuclear waste.
"The issue of nuclear waste disposal is something that we will be dealing with for 10,000, or even a million years, so we have to establish a policy that can be continued across generations and numerous transitions of power," he said.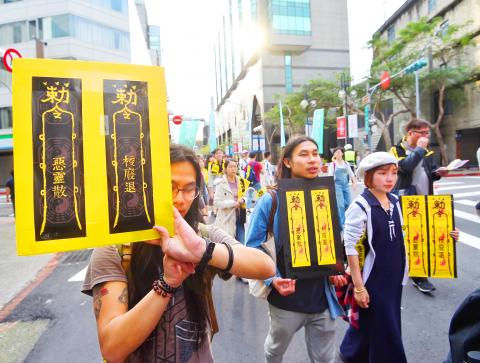 Participants hold up signs as they march against nuclear power in an annual demonstration in Taipei yesterday.
Photo: Fang Pin-chao, Taipei Times
"The government still has not promised that nuclear waste will not be deposited in [Yilan County's] Nanao Township (南澳), so we are still very concerned," said Hayung Noqan, an Atayal member of the Nanao Youth Alliance.
Yenliao Anti-Nuclear Self-Help Association director Wu Wen-chang (吳文樟) called on the central government to set a timeline to tear down the unfinished Fourth Nuclear Power Plant in New Taipei City's Gongliao District (貢寮).
Representatives of Orchid Island's Tao Aborigines sat in silence in front the Presidential Office Building instead of joining the march.
"We have chosen this means to express our view that the government has been 'walking in place' without any progress whatsoever" in moving nuclear waste from Orchid Island, Lanyu Youth Action Alliance member Iomai said.
"So far, there has been absolutely no progress, only election slogans. The Fourth Nuclear Power Plant is still there and the others are still running," said a woman surnamed Chang (張), one of several people who said they were participating in the event because of concern regarding the DPP's unrealized promises.
Other anti-nuclear power rallies were staged simultaneously in Kaohsiung and Taitung County.
While the nation's movement against nuclear power goes back decades, the annual march was launched to commemorate Japan's Fukushima Dai-ichi nuclear power plant meltdown in 2011.
Later yesterday, Executive Yuan spokesman Hsu Kuo-yung (徐國勇) reiterated that the government's goal of phasing out the use of nuclear power in Taiwan by 2025 remains unchanged.
The government will brief the public on its plans later this month, including ways to increase the amount of electricity generated by alternative energy sources nationwide to 20 percent by 2025, Hsu said.
Other issues, such as the handling of nuclear waste, upgrades to more efficient thermal power plants and steps to decommission the nation's three active nuclear power plants will also be addressed, state-run utility Taiwan Power Co (台電) said in a statement.
Additional reporting by CNA
Comments will be moderated. Keep comments relevant to the article. Remarks containing abusive and obscene language, personal attacks of any kind or promotion will be removed and the user banned. Final decision will be at the discretion of the Taipei Times.