Helicopter carrier proposed by navy
UNSUITABLE DISCUSSION? A senior Ministry of National Defense official denied a report that it might buy a Japanese submarine under the pretext of 'scrap metal'
The navy has proposed building a helicopter carrier as part of its indigenous shipbuilding program to boost the nation's marine-patrol capabilities.
The navy plans to build a Landing Helicopter Dock capable of carrying six large helicopters and traveling at 30 knots (55kph).
The 22,000 tonne, 220m-long carrier would be fitted with an OTO Melara 76mm gun, an air defense missile system, an active electronically scanned array radar and advanced sonar system, the navy said.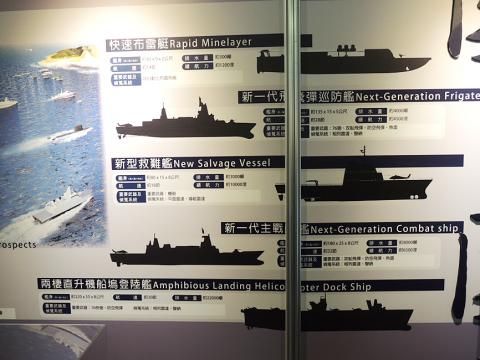 Silhouettes of a helicopter carrier and other proposed warships are displayed yesterday at a naval indigenous shipbuilding exhibition on board the AOE 532 Panshi in Keelung Harbor.
Photo: Lo Tien-pin, Taipei Times
The announcement of the proposal coincided with a naval indigenous shipbuilding exhibition that opens today on the AOE 532 Panshi, a combat-support ship that docked in Keelung Harbor yesterday.
It is the first public presentation of the project since the navy unexpectedly scrapped its helicopter carrier plans from a program unveiled during the Kaohsiung International Maritime and National Defense Exhibition last year.
However, the navy said the plan is yet to be formally included in its shipbuilding scheme pending government approval.
"The presentation shows the navy's 'vision' for a helicopter carrier, but whether it becomes a reality depends on government evaluations," the navy said.
The navy has also planned to build rapid minelayers, salvage vessels, next-generation frigates and combat ships, minesweepers, submarines, amphibious dock vessels, multi-functional transport ships and more Tuo Jiang-class corvettes.
The Panshi sailed into the harbor yesterday along with a Cheng Kung-class frigate and a Kang Ding-class frigate, and is to be open to the public today and tomorrow from 9am to 3pm.
However, only Taiwanese with national ID cards are allowed to board the ships.
Meanwhile, Deputy Minister of National Defense Lee Hsi-ming (李喜明) rejected speculation that the government was planning to purchase a decommissioned Japanese submarine because the navy had difficulties building its first locally-designed submarine.
According to a Hong Kong media report, the ministry planned to purchase a retired Harushio-class or Oyashio-class diesel-electric submarine from Japan under the pretext of "importing scrap metal," because the navy failed to secure the technology to build a submarine hull from the Netherlands, which built the navy's two Chien Lung-class submarines, and other European countries.
"There is no such things and media speculation is incorrect," Lee said.
The ministry was proceeding with the shipbuilding program, but much of the program is confidential and unsuitable for public discussion, he said.
Comments will be moderated. Keep comments relevant to the article. Remarks containing abusive and obscene language, personal attacks of any kind or promotion will be removed and the user banned. Final decision will be at the discretion of the Taipei Times.