Fed chair hints at increased chance of rate hike this month
US Federal Reserve Chair Janet Yellen on Friday signaled an interest rate increase could be on the way this month — if US employment and inflation remain in line with expectations.
Analysts said her words were a clear sign that the central bank would raise the benchmark lending rate at the March 14 and March 15 policy meeting.
The Fed last raised the federal funds rate in December last year — only the second increase in a decade — but Yellen's comments confirm the expectation of another move following recent statements from other Fed officials.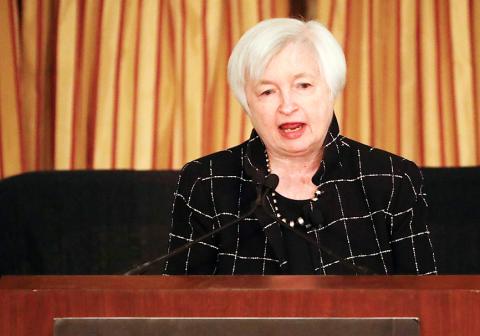 US Federal Reserve Chair Janet Yellen addresses the Executives Club of Chicago on Friday.
Photo: Reuters
The Fed's policy-setting rate committee "will evaluate whether employment and inflation are continuing to evolve in line with our expectations, in which case a further adjustment of the federal funds rate would likely be appropriate," Yellen said in a speech to a Chicago business group.
"They'll hike this month unless payrolls are disastrous," Pantheon Macroeconomics chief economist Ian Shepherdson said.
The Fed would get to see one more employment report before they decide the direction of interest rates, when the US Department of Labor releases data for last month on Friday. They are also scheduled to see two inflation reports the following week.
Barclays analysts also highlighted Yellen's comments on the reduced economic risks in the global economy.
"In our view, this show of confidence in both domestic and external conditions suggests the committee is increasingly comfortable continuing to tighten policy further," they said.
However, Yellen said central bankers continue to believe they would only need to raise rates "gradually," assuming the economic data "continue to come in about as we expect."
"Those increases would keep the economy from significantly overheating, thereby sustaining the expansion and maintaining price stability," she said.
Fed officials in December last year projected three rate hikes this year, but in the wake of the 2008 financial crisis, the Fed's moves have been "at a slower pace than most FOMC [Federal Open Market Committee] participants anticipated in 2014," she said.
"The ongoing expansion has been the slowest since World War II, with real GDP growth averaging only about 2 percent per year" because of "slower growth in the labor force in recent years ... and disappointing productivity growth both in the United States and abroad," Yellen said.
However, she once again warned that monetary policy cannot address all the ills in the economy, and it falls to US Congress and US President Donald Trump's administration to take the appropriate steps.
"Fiscal and regulatory policies — which are of course the responsibility of the administration and the [US] Congress — are best suited to address such adverse structural trends," she said, including the relatively worse economic circumstances for blacks and Hispanics and slow productivity.
Asked after her speech about how expected tax and spending policies might figure into the Fed's outlook, Yellen said officials would wait until they know more about the composition and timing of any changes.
Comments will be moderated. Keep comments relevant to the article. Remarks containing abusive and obscene language, personal attacks of any kind or promotion will be removed and the user banned. Final decision will be at the discretion of the Taipei Times.