Tourism, DGH bosses offer to resign
ACCIDENT AFTERMATH: Chou Yung-hui and Chen Yen-po were only named to their posts in August last year, but have said they are willing to accept responsibility and quit
The heads of the Tourism Bureau and the Directorate-General of Highways (DGH) have offered their verbal resignations to take responsibility for a deadly tour bus accident that occurred one week ago today, but Minister of Transportation and Communications Hochen Tan (賀陳旦) has not accepted the resignations, a senior official said yesterday.
Tourism Bureau Director-General Chou Yung-hui (周永暉) and DGH Director-General Chen Yen-po (陳彥伯) have indicated that they want to take full responsibility for the accident that killed 33 people and injured 11, would accept any punishment handed down to them and are planning to submit their written resignations soon, Ministry of Transportation and Communications Deputy Director Wang Kwo-tsai (王國材) said.
Chen, a highway and railway management veteran, became the head of the Directorate-General of Highways in August last year after leading the National Freeway Bureau for several years.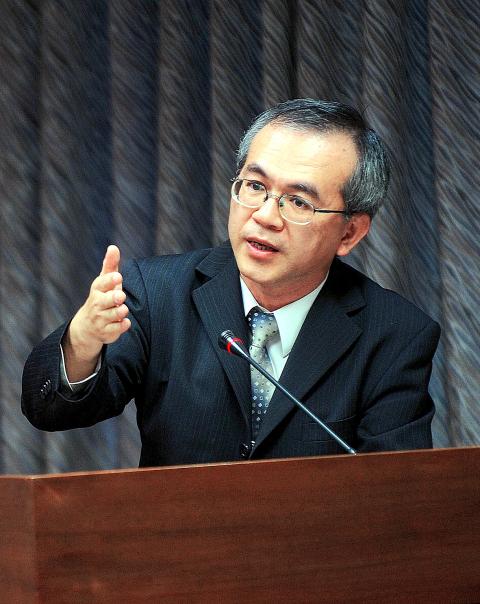 Directorate-General of Highways Director-General Chen Yen-po speaks in an undated photograph.
Photo: CNA
Chou was appointed to the tourism post the same month after serving as Taiwan Railways Administration director-general for many years, although he did not take up his new post until the following month so that he could work toward resolving a threat by railway employees to strike during the Mid-Autumn Festival holiday.
His appointment was controversial because of his lack of experience in the tourism industry.
If Chen's and Chou's resignations end up being approved, they could become the shortest-serving officials in the ministry's history.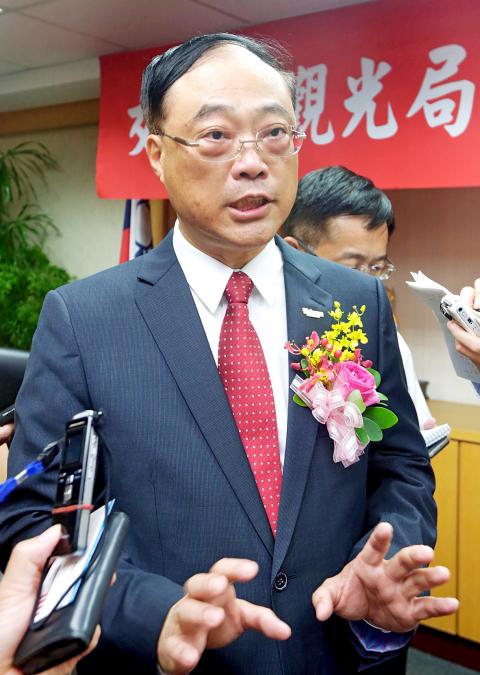 Tourism Bureau Director-General Chou Yung-hui talks to reporters in an undated photograph.
Photo: CNA
Word of their proposed resignations came while prosecutors are still investigating the accident.
The bus was carrying a group composed mostly of elderly Taipei residents home from a day trip organized by Taipei-based Iris Travel Service Co (蝶戀花).
While the bus was dispatched by Taoyuan-based Yeow Lih Transportation (友力通運), a licensed tour bus company, the vehicle was owned by Iris Travel.
The travel agency has been running a tour bus business by making its buses part of Yeow Lih's fleet and hiring drivers for its vehicles, while Yeow Lih charges Iris Travel a fee to join it.
Iris Travel said the driver involved in the accident, who was killed in the crash, had adequate rest before embarking on the trip, but the man's daughter has said that he had worked for 18 consecutive days since Lunar New Year's eve.
Government agencies have been criticized for not closing loopholes that have allowed independent tour bus contractors to flout regulations, despite a deadly bus fire in July last year that killed 26 people, and for allowing travel agencies to arrange poorly designed one-day tours, and overwork their drivers.
Chen said the accident exposed the shortcomings of the directorate and that even though he had been in his job for less than six months, he was sorry for what had happened.
The practice of independent bus drivers joining licensed tour bus firms has existed for years, but the companies cannot just charge independent tour bus owners fees to join their fleet; they must be also held accountable for managing such independent contractors, Chen said.
The directorate would impose stricter restrictions on such tour bus companies, he said.
Comments will be moderated. Keep comments relevant to the article. Remarks containing abusive and obscene language, personal attacks of any kind or promotion will be removed and the user banned. Final decision will be at the discretion of the Taipei Times.