DGH to mull bus drivers' work hour rules
The Directorate-General of Highways (DGH) yesterday said that it would discuss with the Ministry of Labor the best way to regulate the working hours of tour bus drivers, after it was reported that the tour bus driver killed in a freeway accident in Taipei on Monday night had worked 18 days consecutively and 16 hours per day.
Directorate-General of Highways Director-General Chen Yen-po (陳彥伯) said that the government had consulted the regulations of other nations when it stipulated the rules on tour bus drivers' working hours in the Transportation Management Regulations (汽車運輸業管理規則).
The regulations stipulate that bus drivers must not drive more than 10 hours per day and that they should take at least a 30-minute break when they drive consecutively for four hours.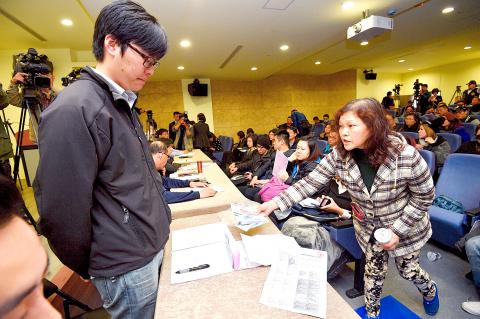 Iris Travel Service owner Chou Chi-hung hangs his head at the Taipei Mortuary Services Office Second Funeral Parlor yesterday as the wife of tour guide Hsiao Ju-ching, who died on Monday, passes him the travel fees collected by Hsiao.
Photo: Lo Pei-der, Taipei Times
Should they prefer to take multiple small breaks instead of one 30-minute break, each break must be no less than 15 minutes.
Drivers can adjust their break times if they are stuck in traffic and must continue driving.
The regulations also stipulate that the maximum consecutive driving time is six hours and drivers must take a 45-minute break afterward.
In addition, drivers should have a rest of at least 10 consecutive hours between working days.
The rest can be eight consecutive hours if there is a change of shift, but the adjustment must not occur more than two times per week or consecutively.
The regulations are similar to those used in the UK, Chen said.
Chen on Tuesday said that the work hours of the tour bus drivers are counted only when their hands are on the steering wheel, which stirred public anger.
He said he had just been trying to explain the difference between the duration of a tour and the driving time, as people tend to confuse the two time periods, Chen said.
Some nations use the former to limit drivers' working hours, while others clearly state the number of hours a driver can work per day, he said.
Chiao Tung University transportation and logistics management department associate professor Wang Jin-yuan (王晉元) suggested that tour bus operators be asked to arrange two drivers for each bus on long-distance tours, similar to the regulations enforced in Germany.
However, the arrangement would definitely increase companies' operating costs and consumers must realize that safety comes at a price, Wang said.
"If a one-day tour requires the bus to travel a long distance, the Tourism Bureau could ask travel agencies to have two drivers on board. The bureau could also ban the sale of such tours," Wang said.
Comments will be moderated. Keep comments relevant to the article. Remarks containing abusive and obscene language, personal attacks of any kind or promotion will be removed and the user banned. Final decision will be at the discretion of the Taipei Times.