Nangang crash death toll rises to 33
MOURNING AND QUESTIONS: The daughter of the bus driver, who was killed in the crash, accused his employer of lying about how much rest time he had been given
Distraught relatives yesterday gathered to mourn loved ones killed after a tour bus carrying elderly Taiwanese flipped on its side on Monday night in Taipei, killing 33 people and injuring 11.
The accident occurred at about 9pm as the bus was traveling in the slow lane on the exit ramp connecting the Chiang Wei-shui Memorial Freeway (National Freeway No. 5) and the Formosa Freeway (National Freeway No. 3) in Nangang District (南港).
Dashboard camera footage from a nearby car shows the bus driver apparently losing control of the vehicle as it was going through a long curve and flipping over the guard rails on the right side of the road.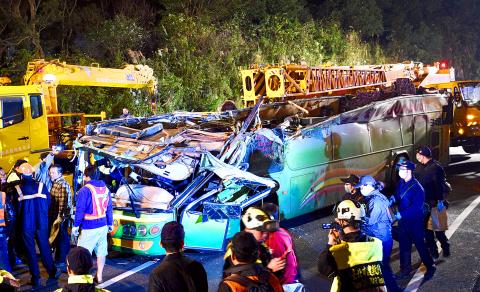 Rescue workers attend the scene of a deadly bus crash in Taipei's Nangang District on Monday night.
Photo: Peter Lo, Taipei Times
The bus, carrying 42 passengers, a tour guide and the driver, was headed back to Taipei after a day of sightseeing at Wuling Farm (武陵) in Taichung, a favorite destination during cherry blossom season.
The latest victim died yesterday morning from multiple injuries and internal bleeding, Wanfang Hospital said.
Eleven survivors are still hospitalized.
Investigators examine the wreckage of a bus in Taipei's Nangang District yesterday after it was involved in a deadly crash on Monday night.
Photo: Huang Yao-cheng, Taipei Times
The driver and guide also perished in the accident, the worst freeway accident in the nation's history.
It was the deadliest road accident since Oct. 8, 1986, when a tour bus plunged into a ravine in central Taiwan, killing 42 people.
Questions have been raised over whether driver Kang Yu-hsun (康育薰) had been overworked.
A grief-stricken relative of a bus crash victim talks to reporters in Taipei yesterday.
Photo: Wang Yi-sung, Taipei Times
His daughter, Kang Yi-chen (康宜蓁), yesterday accused Iris Travel Service Co (蝶戀花旅行社) of lying about her father having had two full rest days before making the trip to Wuling Farm.
She said her father only had some time off on Jan. 26 and then he worked through the Lunar New Year holiday until Friday last week.
Her father did not arrive home until 8am on Saturday morning and then went to check his bus that afternoon, saying that he had to work on Sunday and Monday, she said.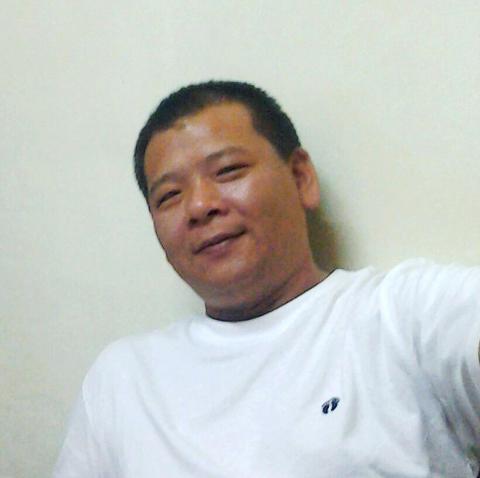 Bus driver Kang Yu-hsun, who was killed when the bus he was driving crashed in Taipei on Monday night, poses for an undated photograph.
Photo: screen grab from Facebook
"My father had been with the travel agency for five to six years. He often left home at 5am or 6am and did not return until 10pm to 11pm. The company was over the top to say that he was taking days off, when he did not," she said.
While her father rarely complained about his work, he often looked exhausted, she said.
Taipei Association of Travel Agents deputy director-general Hsiao Po-jen (蕭博仁) denied allegations that Kang Yu-hsun had worked 16 consecutive days prior to the accident, saying that drivers are allowed rest time between destinations on their itineraries.
If a driver takes four hours to reach a destination and then has a two-hour wait before the tourists return, "drivers can rest during this time, which does not count as driving," Hsiao said.
"Working for 16 days straight does not mean driving for 16 days straight. We want to clarify that on behalf of the travel agency," he added.
As long as bus drivers do not actually drive more than eight hours in one shift they are not considered to be working overtime, he said.
If a round-trip from Taipei to Taichung consists of three hours of driving and eight hours of sightseeing, at the end of the trip the bus driver is considered to have worked for just three hours, he said.
Autopsies were conducted yesterday, while accident investigators examined the crash site.
Premier Lin Chuan (林全) yesterday morning visited the injured at Wanfang Hospital and Taipei Medical University Hospital, and expressed the government's condolences to the families of the victims. He also ordered the Ministry of Health and Welfare to launch its mass casualty response plan and the Ministry of the Interior to establish an interministerial task force to handle the aftermath.
Executive Yuan spokesman Hsu Kuo-yung (徐國勇) said each passenger was covered by a NT$2 million (US$64,792) travel insurance plan and the driver was covered by his employer's liability insurance with a maximum coverage of NT$2 million.
Relatives of many of the victims went to the accident site to perform religious rituals for the dead. They threw banknotes toward the crash site and chanted prayers.
Other family members, some in tears, gathered at Taipei's Second Funeral Parlor, where some of the bodies were being stored.
President Tsai Ing-wen (蔡英文), Legislative speaker Su Jia-chyuan (蘇嘉全), Taipei Mayor Ko Wen-je (柯文哲) and Minister of Transportation and Communications Hochen Tan (賀陳旦) were among the politicians who visited the parlor to pay their respects and offer condolences to the bereaved families.
Ko said city government agencies are working to determine the travel agency's accountability and the amount of compensation for the accident would be determined after the investigation has been wrapped up.
Taipei City Government chief consumer protection officer Ho Hsiu-lan (何修蘭) said companies usually pay between NT$2 million and NT$6 million in compensation per family for people killed during a trip.
However, if the investigation finds that the companies involved committed major professional negligence, they could be required to pay three times the normal compensation under the Consumer Protection Act (消費者保護法), she said.
Additional reporting by Chen Wei-han and agencies
Comments will be moderated. Keep comments relevant to the article. Remarks containing abusive and obscene language, personal attacks of any kind or promotion will be removed and the user banned. Final decision will be at the discretion of the Taipei Times.