Vatican conference challenges China on organ trafficking
TRANSPARENCY: China's representative said that the country should not be singled out for inspection, as doubts persist that it has stopped the practice
Participants at a Vatican conference on organ trafficking on Tuesday challenged China to allow independent scrutiny to ensure it is no longer using organs from executed prisoners, saying Chinese assurances are not enough to prove the transplant program has been reformed.
Sparks flew in the afternoon session of the meeting as former Chinese minister of health Huang Jiefu (黃潔夫) sought to assure the international medical community that China was "mending its ways" after declaring an end to the prisoner harvesting program in 2015.
"I am fully aware of the speculation about my participation in the summit," Huang told the conference, citing "continuing concerns about the transplant activities."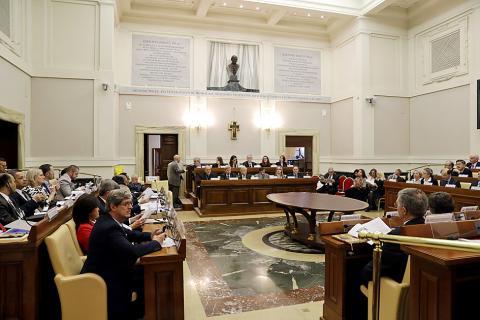 Delegates attend the opening session of a conference on "Organ Trafficking and Transplant Tourism" at Vatican City on Tuesday.
Photo: AP
However, he provided scant data to rebut critics, showing only two slides indicating an increased number of living and deceased donors in recent years and China's recent efforts to crack down on black-market transplant activities.
Huang first publicly acknowledged the inmate harvesting organ program in 2005 and later said as many as 90 percent of Chinese transplant surgeries using organs from dead people came from executed prisoners. He has spearheaded a reform effort and pledged that China put an end to the program in 2015.
However, doubts persist that China is meeting its pledge, given its lack of transparency, the severe shortage of organ donors and China's longstanding black-market organ trade.
Huang's colleague, Haibo Wang, stressed the sheer impossibility of trying to fully control China's transplant activity since there are 1 million medical centers and 3 million licensed doctors operating in the nation. As a result, China proposed at the Vatican meeting that the WHO form a global task force to help crack down on illicit organ trafficking.
Jacob Lavee, president of Israel's transplant society, said the WHO should be allowed to conduct surprise inspections and interview donor relatives in China.
"As long as there is no accountability for what took place ... there can be no guarantee for ethical reform," he told the conference in a heated exchange.
He was joined by Gabriel Danilovitch, from the UCLA Medical Center, who challenged the Chinese delegation to declare straight out if prisoner organs were no longer used.
Wang countered that he and Huang spent the past 12 years battling critics inside China and out to reform the sector, and said China should not be singled out for spot WHO inspections.
The back-and-forth underscored the controversy over China's participation in the conference, after critics sent a letter to organizers and Pope Francis warning that Chinese attendance amounted to a Vatican whitewash of its past practices.
However, organizers stood firm in their invitation.
"Are they doing any illegal transplantation of organs in China? We can't say," said Monsignor Marcelo Sanchez Sorondo, chancellor of the Pontifical Academy of Sciences. "But we want to strengthen the movement for change."
Comments will be moderated. Keep comments relevant to the article. Remarks containing abusive and obscene language, personal attacks of any kind or promotion will be removed and the user banned. Final decision will be at the discretion of the Taipei Times.