Protests in Pakistan over arrest tied to Mumbai attack
Employees and supporters of a Pakistani Muslim charity yesterday held protests across the country after their leader was detained by the government.
Cleric Hafiz Saeed, head of the Jamaat-ud-Dawa organization, on Monday was placed under house arrest, along with four of his deputies.
His organization is linked to Lashkar-e-Taiba (LET), the militant group behind the 2008 terrorist attacks in Mumbai, India.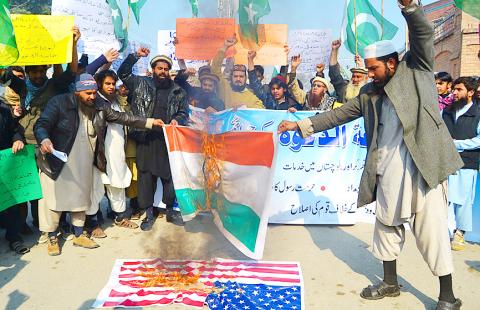 Supporters of the Jamaat-ud-Dawa organization yesterday burn Indian and US flags in Peshawar, Pakistan, after the group's leader was placed under house arrest.
Photo: AFP
Saeed's arrest has been long sought by the Indian and US governments, which said that Jamaat-ud-Dawa is a front for LET.
The US has a standing US$10 million reward for information leading to his arrest and conviction.
Police took Saeed away from a mosque in Lahore late on Monday and escorted him to his residence, an Agence Presse-France reporter said.
"My detention orders are unlawful and we will challenge them in the court," Saeed told reporters before he was led away by police.
He vowed to continue his work and has blamed the government's move on pressure from US President Donald Trump's administration.
The Mumbai attack played out on live television around the world as commandos battled the heavily armed gunmen, who arrived by sea on the evening of Nov. 26, 2008.
It took Indian authorities three days to regain full control of the city and New Delhi has long said there is evidence that "official agencies" in Pakistan were involved in plotting the attack.
Islamabad has always denied the charge.
Jamaat-ud-Dawa has operated freely across the country, popular for its charity work especially in the wake of natural disasters, and despite the bounty, Saeed has led a high-profile public life, regularly delivering fiery anti-India speeches.
It is not clear why Pakistan chose to take action now. The detention order named Jamaat-ud-Dawa and a foundation tied to it.
Comments will be moderated. Keep comments relevant to the article. Remarks containing abusive and obscene language, personal attacks of any kind or promotion will be removed and the user banned. Final decision will be at the discretion of the Taipei Times.