Rail operator warns striking workers
AWOL? The TRA cannot compel people to work on national holidays and mark them as absent without leave, a labor union said, calling it interference with union actions
Employees who refused to work during the Lunar New Year holiday to protest working conditions will face disciplinary action for interfering with holiday operations, the Taiwan Railways Administration (TRA) said yesterday.
More than 5,000 employees remained at their posts to maintain smooth railway operations during the holidays, but striking employees, who did not apply for leave, should be punished in fairness to those who reported for work, the agency said.
Striking workers will be deemed absent without leave and may be subject to additional punishment pending a review by a disciplinary board after the holidays, it said.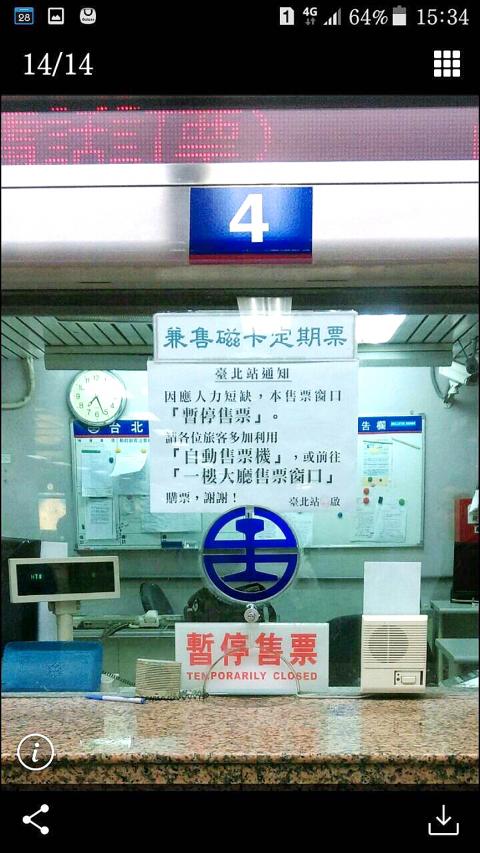 A sign on a ticket window at the Taipei Railway Station on Saturday says it is temporarily closed due to a manpower shortage.
Photo provided by Taiwan Railway Union
A workers' union said that hundreds of members took mass leave to protest the agency's refusal to hire more employees to ease the burden on staff.
The agency estimated that about 200 workers have taken unapproved leave every day since Friday, while the union's estimate was 500 to 600 people per day.
The strike has caused confusion at some stations, with ticketing and station operations being stalled at stations in Taipei, Taoyuan and Hualien due to understaffing.
The agency has marked the workers on strike as absent — a move that the union described as illegally suppressing union actions.
Union secretary Hsiao Nung-yu (蕭農瑀) said TRA employees who had refused to work overtime during national holidays had never been marked as absent from work, but the agency's unprecedented action this time was an act of discrimination and interference with union actions.
"The union has filed a complaint about the TRA's violation of the labor law with the Ministry of Labor," Hsiao said, adding that the union would help members seek relief should they be disciplined for participating in the mass leave.
The Lunar New Year holiday is a national holiday and workers do not need to seek approval for leave according to the law, the union said, adding that it would commission lawyers to file reports about the agency's illegal attempt to force employees to work.
"The union will fight for the rights of its members to refuse to work overtime and to take leave from work," it said in a statement.
The TRA said it has been responsive to the union's demands to hire more workers and increase bonuses, with the Executive Yuan and the Ministry of Transportation and Communications approving the agency's response to the demands.
The agency has been negotiating with the union about possible changes to its work shift policy following the latest labor law amendment, but no changes will be made until a consensus is reached, it said.
Comments will be moderated. Keep comments relevant to the article. Remarks containing abusive and obscene language, personal attacks of any kind or promotion will be removed and the user banned. Final decision will be at the discretion of the Taipei Times.