Wide support for pension reform: poll
QUICK RESPONSE: The Taiwan Style Foundation conducted the survey on Thursday and Friday, following the government's announcement of its package of reform plans
Almost three-quarters of the public thinks the nation's pension system needs to be reformed, and almost as many like the idea of immediate reforms, a poll released yesterday by the Taiwan Style Foundation found.
The foundation said that 70.3 percent of respondents thought reforms were needed and 64.9 percent backed immediate reforms, while 14.1 percent of respondents said the pension system does not need to be reformed
Even more respondents (73.2 percent) voiced support for the government's goal of "keeping the pension funds afloat for at least a generation," while 63 percent said they agreed with the government's aim to ensure a pension system that can afford stable and long-term payments, the foundation said.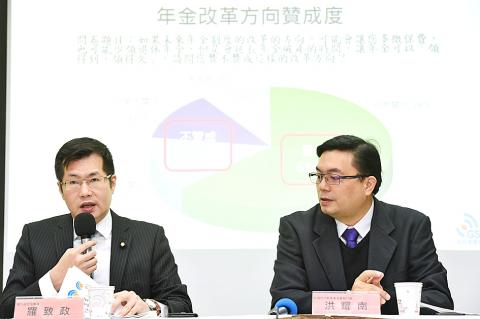 Democratic Progressive Party Legislator Lo Chih-cheng, left, and Taiwan Style Foundation chief executive Hung Yao-nan brief reporters in Taipei yesterday on the results of an opinion poll on pension reform.
Photo: Chu Pei-hsiung, Taipei Times
Just about the same number (63.3 percent) said President Tsai Ing-wen (蔡英文) has the resolve to carry out reforms, but 23 percent of respondents thought otherwise, the survey found.
The government's proposal to raise the pension contributions of employees from 12 percent to 18 percent was supported by 54 percent of respondents, while 35.5 percent disagreed with the idea, and 61.8 percent backed a formula based on the average salary of the final 15 years of employment, while 22.1 percent disapproved, the foundation said.
Analyzing the results along occupational lines, 84.6 percent of public-sector employees — military personnel, civil servants and public-school teachers — and 70.8 percent of private-sector workers said the pension system needs to be revised.
Among public-sector employees, 53.8 percent support the phase-out of the 18 percent preferential interest rate on retired civil servants' savings, but less than 50 percent supported a "pension ceiling" or increasing their pension contributions, the foundation said.
The survey found there is room for improvement in explaining the government's proposals: 58.4 percent of respondent said they understood the reform plans, but 40.2 percent of respondents said they did not, and while 71.1 percent said they knew the pensions fund might go bankrupt between 2027 and 2031, only 42.9 percent knew that the government's proposals would delay bankruptcy to between 2036 and 2044.
The survey found strong support for proposals to scrap job-specific pension privileges, with 79.3 percent of respondents supporting the cancelation of the 18 percent preferential interest rate and 79.4 percent backing adjusting the 13 percent interest rate for former employees of state-run banks.
When asked about retired civil servants who were able to count the time they worked as Chinese Nationalist Party (KMT) officials toward their total years in service, more than three-quarters (77.3 percent) of respondents supported such pension privileges, and 85.6 percent backed canceling the preferential interest rates for political appointees who served as civil servants, and 83.4 percent backed reducing the income replacement ratios for judicial officers.
"Contrary to what was thought to be massive objections to the government's pension reform proposals, the survey found a mostly positive reaction, especially for potentially contentious issues such as raising pension contributions and the phase-out of preferential interest rates," Democratic Progressive Party Legislator Lo Chih-cheng (羅致政) said.
"The survey indicates an emerging divergence among vested interest groups," Citizen's Congress Watch executive director Chen Chien-fu (陳建甫) said.
"Public-sector employees used to be seen as a unified group that could not be bent, but disagreements are beginning to surface within this group, especially along generational lines," Chen said.
The government released its pension reform proposals on Thursday last week and the survey was conducted on Thursday and Friday.
A total of 1,018 valid samples were collected and the survey has a confidence level of 95 percent and a margin of error of 3.07 percentage points.
Comments will be moderated. Keep comments relevant to the article. Remarks containing abusive and obscene language, personal attacks of any kind or promotion will be removed and the user banned. Final decision will be at the discretion of the Taipei Times.