History of KMT land sale scrutinized
WIDE MARGINS? Legislator Chen Chi-mai said the KMT bought the land in Taipei for NT$10,000 a ping and sold it for NT$1.19m a ping to the Social Welfare Foundation
Democratic Progressive Party (DPP) Legislator Chen Chi-mai (陳其邁) yesterday accused the Chinese Nationalist Party (KMT) of making NT$580 million (US$18.4 million at the current exchange rate) on the sale of land to the National Women's League of the Republic of China in 1999.
The league purchased a 501 ping (1,656m2) property on Linsen S Road from the KMT's Women's Affairs Committee in 1964.
Chen presented a file showing that 414 ping of the land was registered under the Army Command Headquarters, while the remaining 87 ping belonged to the National Property Administration.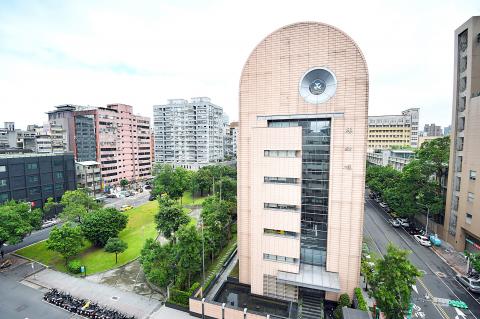 A building that houses the National Women's League is pictured in Taipei on Oct. 11 last year.
Photo: Peter Lo, Taipei Times
The land was worth NT$10,000 per ping at the time and the KMT purchased the land at that rate, buying the entire property for NT$5 million, which it paid in installments over 18 years, he said.
Even if NT$1.5 million paid to the Army Command Headquarters for use of the land is included, the KMT spent NT$6.5 million to get 400 ping of land in the center of Taipei, Chen said.
Chen said the KMT sold the land at a high price — NT$1.19 million per ping — to the league's Social Welfare Foundation in 1999.
The 1964 decision by the then-KMT government — which said the land was unsuitable for military use — to say the buildings belonged to the league, as it had established a housing complex for women at the site, was a ruse to sell the land to the league, he said.
The KMT government at the time is suspected of coercing the league into buying the land, Chen said, adding that his report showed official notices issued to the league for them to buy the land.
Chen urged the Ill-gotten Party Assets Settlement Committee to launch an investigation into the matter.
Committee spokeswoman Shih Chin-fang (施錦芳) said the situation was a classic example of a national asset turned into a party asset.
The committee is gathering information and will launch an investigation into the league after it wraps up a probe of the China Youth Corps, Shih said.
Comments will be moderated. Keep comments relevant to the article. Remarks containing abusive and obscene language, personal attacks of any kind or promotion will be removed and the user banned. Final decision will be at the discretion of the Taipei Times.