National Police Agency negligent in curbing violence: DPP lawmakers
Democratic Progressive Party (DPP) legislators yesterday took the National Police Agency (NPA) to task for failing to prevent violence at several public events and urged authorities to ascertain whether Beijing was involved.
"People believed to have links to organized crime have attempted to sabotage recent public events, including hearings on the import ban on Japanese food products and pension reform and an attempted assault against [Hong Kong democracy advocate] Joshua Wong (黃之鋒)," DPP Legislator Wang Ding-yu (王定宇) said.
While Taiwan welcomes differing opinions, the freedom people have in a democratic system should not be abused to a point that it undermines democracy, Wang said, citing incidents of alleged assault by the pro-unification Concentric Patriotism Association against Falun Gong members outside the Taipei 101 building.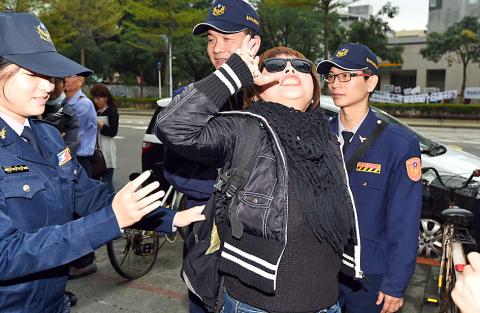 A pro-unification protester shouts outside the venue of a New Power Party forum with Hong Kong legislative councilors in Taipei on Sunday.
Photo: Chien Jung-fong, Taipei Times
Wang said he has NPA Director-General Chen Kuo-en (陳國恩) on his "watchlist" for the agency's failure to prevent, quell and review the incidents under his command.
"Chen should make amends for his negligence, so that the international community will not have the misconception that ringleaders affiliated with China can use public acitivities as opportunities to 'please the boss,'" Wang said. "We must not allow an autocracy to corrupt a democracy."
DPP Legislator Liu Chao-hao (劉櫂豪) said that the NPA and other national security agencies should ascertain whether Beijing had a hand in the violence.
"If the nation is slow to respond to violence, freedom of speech will be threatened and a chilling effect could ensue," Liu said.
He urged the NPA to take swift action to crack down on violence and give police officers clear instructions on measures to uphold peace.
DPP Legislator Chen Chi-mai (陳其邁) said that Wong's itinerary might have been leaked, which is how protesters learned about his time of arrival at the Taiwan Taoyuan International Airport on Friday and the hotel he was staying at.
Chen Chi-mai said that while many protesters against Hong Kong independence were mobilized by "Chinese gangsters," there might be similar groups in Taiwan that are backed by China.
He urged the Ministry of the Interior to inspect the financial sources of the Concentric Patriotism Association and other pro-unification groups.
NPA Deputy Director-General Chou Wen-ke (周文科) said that the agency would instruct the Criminal Investigation Bureau and local police departments to apprehend any person who uses violence at public events, including rallies, hearings and marches.
The agency has ordered precincts to step up patrols near Taipei 101, Ximending (西門町) and the National Palace Museum, where protests are often held, he said.
Chen Kuo-en on Monday said that the agency would protect people's right to protest, but it would not tolerate criminal groups that look for trouble by infiltrating public events.
He added that he would make sure police officers follow their training and take swift action when confronting troublemakers, launch in-depth investigations and eliminate criminal groups by targeting every member of a group at once, raiding their bases and cutting income sources.
Several people who tried to assault Wong and Hong Kong lawmakers Edward Yiu (姚松炎), Nathan Law (羅冠聰) and Eddie Chu (朱凱迪) at the airport are suspected to be members of criminal groups, the agency said.
The Taipei Police Department said it detained six people for identification checks after pronouncing the airport protest illegal.
Additional reporting by Huang Tun-yen
Comments will be moderated. Keep comments relevant to the article. Remarks containing abusive and obscene language, personal attacks of any kind or promotion will be removed and the user banned. Final decision will be at the discretion of the Taipei Times.