US-Taiwan breakthrough likely: ex-minister
Former minister of national defense Michael Tsai (蔡明憲) yesterday said that from his recent talks with former US national security official Stephen Yates, it can be surmised that the new US administration to be headed by president-elect Donald Trump will reassess Taiwan-US relations, which could lead to a major breakthrough in official ties between Washington and Taipei.
Tsai made the remarks in an interview with the Central News Agency, adding that he and Yates are old friends and they met last week for informal talks when Yates was visiting Taipei.
Tsai, who was Taiwan's deputy representative to the US and deputy secretary-general of the National Security Council, said Yates predicted that the Trump administration will reconsider Washington's international relationships, which includes US-China and Taiwan-US ties.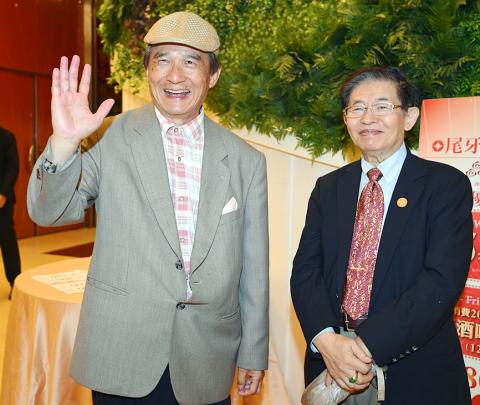 Former minister of national defense Michael Tsai, left, and former National Security Council deputy secretary-general Parris Chang attend a fund-raising event marking the alliance's 13th anniversary in Taipei on Oct. 22.
Photo: Liao Chen-huei, Taipei Times
"Trump has placed a priority on US interests, therefore opportunities are opening up to broaden ties and exchanges between Taiwan and the US," Tsai said.
Noting that the US Senate and Congress recently approved the National Defense Authorization Act for the coming year — which is to be implemented when it is signed into law by US President Barack Obama before his term expires — Tsai said that it will be the first time that senior military officials can legally host reciprocal visits and exchanges between Taiwan and the US.
Therefore, when Trump is inaugurated as US president next month, this law would promote major breakthroughs in official ties and exchanges between Taiwan and the US, Tsai said.
He recommended that Taiwan's foreign affairs institutions lobby Washington for more changes.
Trump has said that he would put the interests of the US first, which would help promote and adjust the Taiwan-US relationship, Tsai said.
"Just as Trump wrote on Twitter that he spoke with the president, so must we take the initiative when these opportunities present themselves," he said.
Tsai said President Tsai Ing-wen (蔡英文) and foreign affairs officials should lobby Washington to change the name of the de facto consulate in the US to the "Taiwan Representative Office."
Taiwan's representative office in Washington is called the Taipei Economic and Cultural Representative Office.
"This move would be opposed by China. We must not sit back and do nothing just because China is against it," Michael Tsai said.
"It is important to convey the needs and wants of Taiwanese to the US. If we do not stand up on the representative office issue, then the US will not even consider it," he added.
Chen Chien-jen (程建人), former foreign affairs minister and former representative to the US under the Chinese Nationalist Party (KMT) government, yesterday said that "Taipei" was chosen instead of Taiwan for the representative office name when the US broke official diplomatic ties with Taiwan in 1979 to "avoid indicating any sense of Taiwanese independence at the time."
"However, I do not believe lobbying for a new name is an urgent matter," Chen said. "Right now Taiwan needs to steadfastly push forward our foreign affairs policy. It is most important to maintain cross-strait peace and security, and enhance our relationship with the US."
Comments will be moderated. Keep comments relevant to the article. Remarks containing abusive and obscene language, personal attacks of any kind or promotion will be removed and the user banned. Final decision will be at the discretion of the Taipei Times.