Thousands rally to support equal marriage rights
'PEAK IS IN SIGHT': It might be another six months before a bill legalizing gay marriage is approved, as the legislative session is about to end, a DPP lawmaker said
More than 200,000 people yesterday gathered for a public concert on Ketagalan Boulevard in Taipei in support of same-sex marriage.
The concert, which had a theme of supporting equal marriage rights and preventing deaths caused by discrimination against gay people, coincided with Human Rights Day, the concert's organizers said.
More than 20 artists took to the stage to express solidarity with supporters of same-sex marriage, including Hong Kong musician and pro-democracy advocate Denise Ho (何韻詩).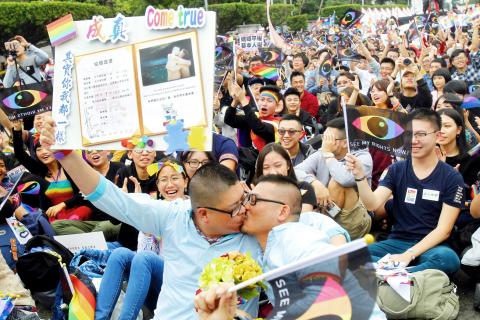 A couple kiss and hold their marriage certificate during a rally supporting a proposal to allow same-sex marriage in Taipei yesterday.
Photo: AP/Chiang Ying-ying
TV host Belle Yu (于美人) made an appearance onstage and tossed a bouquet to the crowd and wished gay couples luck in their bid to become legally united, while singers Kenji Wu (吳克群) and Aaron Yan (炎亞綸) joined the crowd to show their support.
Shortly after the event began, organizers flew a large rainbow flag made of balloons in front of the Presidential Office Building as a message to President Tsai Ing-wen (蔡英文) regarding the public's demand to legalize same-sex marriage.
Legislators across party lines attended the event to show their support, while participants holding up fliers and flowers chanted: "No Civil Code amendments, no end to discrimination."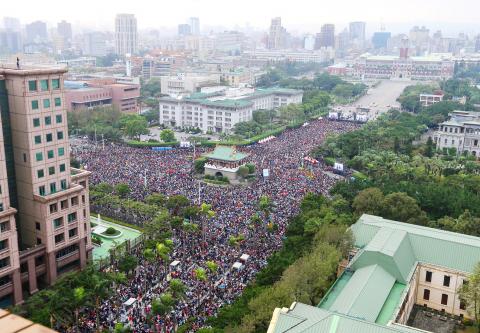 People calling for marriage equality gather around Nanmen and Ketagalan Boulevard in Taipei yesterday.
Photo: CNA
The organizers said that the crowd started to gather at 1pm and reached at least 200,000 people at about 4pm, spanning 4km.
The crowd cheered when Democratic Progressive Party (DPP) Legislator Yu Mei-nu (尤美女), who in October proposed the bill to amend the Civil Code, took to the stage to make a speech.
Same-sex marriage is a lofty dream, Yu said, adding that the ongoing legislative process is like mountaineering: The peak is in sight, but it does not always mean the road ahead will be easy.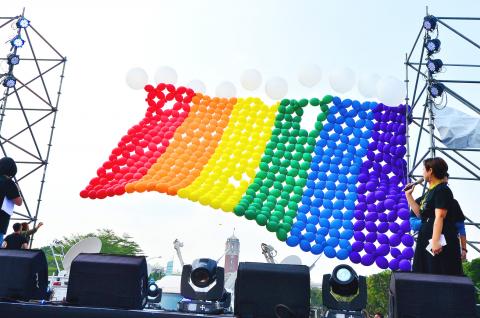 A rainbow flag made of balloons yesterday floats over a stage during a concert in support of same-sex marriage at Ketagalan Boulevard in Taipei.
Photo: Wang Yi-sung, Taipei Times
Yu said that she and her colleagues at the legislature's Judiciary and Organic Laws and Statutes Committee would clear committee reviews of three draft bills aimed at legalizing same-sex marriage, which are scheduled for Dec. 26.
However, as the end of the legislative session nears, a bill might not be passed until June, following cross-caucus negotiations, she said, urging the public to use this time to engage in rational discussions on gay marriage.
All five members of the New Power Party (NPP) legislative caucus also attended the event to show their support.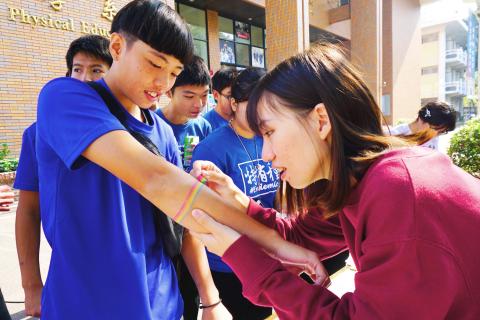 A student has a rainbow flag painted on his arm during a signature drive in support of same-sex marriage in Taichung yesterday.
Photo: Tsai Shu-yuan, Taipei Times
Love is what unites all the participants at the event and NPP legislators are just like any other people in the crowd who want equal marriage rights, justice and love, NPP Executive Chairman Huang Kuo-chang (黃國昌) said.
"I believe that we will succeed if we continue on this path," he said.
Chinese Nationalist Party (KMT) legislators Ko Chih-en (柯志恩), Chiang Wan-an (蔣萬安) and Jason Hsu (許毓仁) also voiced their support for same-sex marriage in pre-recorded videos, with Chiang and Hsu saying they are in favor of amending the Civil Code.
Presidential Office spokesman Alex Huang (黃重諺) said that Tsai supports marriage equality and believes that gay people have the right to marriage.
"With regard to the draft bills, they are being discussed in the legislature. We welcome and look forward to more dialogue and a higher level of tolerance in society to better safeguard the rights of gay people," Alex Huang said.
Comments will be moderated. Keep comments relevant to the article. Remarks containing abusive and obscene language, personal attacks of any kind or promotion will be removed and the user banned. Final decision will be at the discretion of the Taipei Times.