Taiwan can help Trump with Asia view: Stanton
'UNORTHODOX': Taiwan can take advantage of this opportunity to change Washington's policy toward the nation, the former AIT director said in an article
Taiwan and its friends in the US should help US president-elect Donald Trump's administration improve its knowledge of the geostrategic importance of Taiwan to any US policy toward Asia and exercise greater care in enunciating the US' position toward Taiwan, former American Institute in Taiwan (AIT) director William Stanton said in an article published on Wednesday.
In the article titled "What should US policy toward Taiwan be under the Trump administration?" Stanton said that Taiwan should take advantage of the election of Trump, whom he called a very unorthodox US president, to help change Washington's policy toward Taiwan.
Stanton said in the article, published by the Washington-based Taiwan affairs think tank Global Taiwan Institute, that what troubles him most is Trump's lack of attention to Asia, while his candidates for national security adviser and CIA director appear to have no experience or interest in Asia.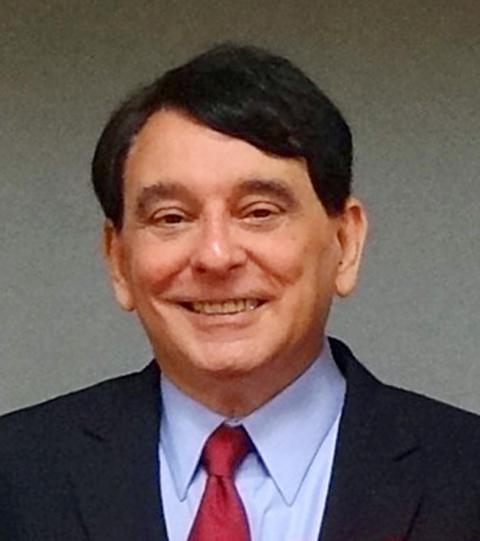 Former American Institute in Taiwan director William Stanton speaks at the International Symposium on Cross Taiwan Strait Relations and Asian Pacific Peace and Security in Taipei on Sept. 19 last year.
Photo: Wang Min-wei, Taipei Times
This continues the long tradition of US presidents whose foreign policy officials knew nothing about Asia, Taiwan or China, he said.
Stanton added that the new US government should enunciate its policy toward Taiwan by avoiding the frequent, misleading, shorthand references to the US' "one China" policy, which is usually misinterpreted to mean Chinese sovereignty over Taiwan.
Instead, he said, the new US administration should — like China — simply repeat the carefully crafted language of the 1979 communique: "The Government of the United States of America acknowledges the Chinese position that there is but one China and Taiwan is part of China."
However, it should also reiterate key points from the July 1982 "six assurances," which stipulate that the US would not alter its position about the sovereignty of Taiwan, which is that the question is one to be decided peacefully by Chinese themselves, and would not pressure Taiwan to enter into negotiations with China, and that the US would not formally recognize Chinese sovereignty over Taiwan, he said.
The US government also needs to frequently repeat some of the actual language in the Taiwan Relations Act (TRA), Stanton said.
The Trump administration should show greater flexibility in allowing Taiwan's representatives to meet with US officials on a more regular basis and at a higher level, he said.
Washington lawyers have created most of the self-imposed restrictions on official Taiwan travel and contact, in an overly zealous effort to show that Washington has broken diplomatic relations with the Republic of China.
The Trump administration should more aggressively pursue support for Taiwan's participation in international organizations, Stanton said.
The Trump administration should also welcome negotiations with Taiwan on a bilateral free-trade agreement and should reiterate and then act on the 1979 commitments in the TRA to provide Taiwan with arms "to enable Taiwan to maintain a sufficient self-defense capability" and to further bolster military cooperation and provide technical assistance to Taiwan's indigenous weapons development programs, Stanton added.
In another institute article, former AIT director Stephen Young said that the new US administration should continue providing defensive weapons to Taiwan and reaffirm Washington's commitment to the three joint communiques of 1972, 1978 and 1982, and to the "one China" policy.
Young also recommended that a US Cabinet-level official review bilateral economic relations and employ existing mechanisms with the Taiwan-US Trade and Investment Framework Agreement to keep the dialogue going on a range of trade issues.
Comments will be moderated. Keep comments relevant to the article. Remarks containing abusive and obscene language, personal attacks of any kind or promotion will be removed and the user banned. Final decision will be at the discretion of the Taipei Times.