Shinzo Abe says Trump 'trustworthy'
Japanese Prime Minister Shinzo Abe described US president-elect Donald Trump as a "trustworthy leader" after they met on Thursday.
Abe told reporters after the hastily arranged 90-minute meeting at Trump Tower in Manhattan: "The talks made me feel sure that we can build a relationship of trust."
He did not disclose specifics because the conversation was unofficial.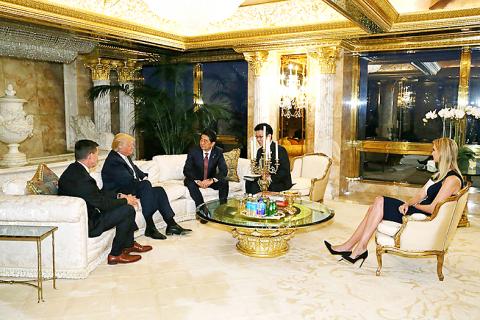 US president-elect Donald Trump, second left, speaks with Japanese Prime Minister Shinzo Abe, center, as Trump's daughter Ivanka Trump, right, retired US Army lieutenant general Michael Flynn, left, and an interpreter listen at Trump Tower in New York on Thursday.
Photo: AFP / CABINET SECRETARIAT
"Alliances cannot function without trust. I am now confident that president-elect Trump is a trustworthy leader," Abe said, describing the talks as "candid" and held in a "warm atmosphere."
Abe gave Trump a golf driver and received golf-wear in return, Japanese officials said.
Photographs taken inside the ornate meeting room at Trump Tower showed Abe accompanied only by an interpreter and Trump by his daughter Ivanka, her husband and Trump adviser Jared Kushner, and retired US Army lieutenant general Michael Flynn, whom a senior Trump official on Thursday said had been offered the national security adviser position.
Abe said he had agreed to meet again with Trump "at a convenient time to cover a wider area in greater depth."
It was unclear whether that would happen before Trump's inauguration on Jan. 20.
Trump official Kellyanne Conway told CBS earlier on Thursday that "any deeper conversations about policy and the relationship between Japan and the United States will have to wait until after the inauguration."
In Tokyo, Ivanka Trump's presence drew attention, particularly after tabloids reported that Donald Trump planned to appoint her as US ambassador to Tokyo.
"It's quite unusual to see a family member attending the first encounter between two leaders, even if it's informal," said Yoshinobu Yamamoto, a professor at the University of Niigata Prefecture. "It indicates that she would be playing some important role in the Trump administration, but it's no surprise to see her there, as she has already been involved in politics."
"Anyway, that's the Trump way," Yamamoto said.
Ivanka Trump is a key player in her father's business empire and has her own fashion label and jewelery line.
Some said her presence at the meeting potentially blurred the line between business and politics.
"Clearly she's using her political position for family business," a Japanese-language tweet said.
Ivanka Trump became embroiled in a mini-scandal this week after her jewelery company issued a message promoting the US$10,000 gold bracelet she wore during her father's first television interview as president-elect on Sunday, raising questions of potential conflicts of interest.
Comments will be moderated. Keep comments relevant to the article. Remarks containing abusive and obscene language, personal attacks of any kind or promotion will be removed and the user banned. Final decision will be at the discretion of the Taipei Times.