US ELECTION: Trump adviser met Tsai: David Lee
A "key consultant" of US president-elect Donald Trump's campaign team met with President Tsai Ing-wen (蔡英文) in Taipei a few weeks ago, Minister of Foreign Affairs (MOFA) David Lee (李大維) said yesterday, stressing that the nation is an asset rather than a liability to Washington.
Lee made the remarks on the sidelines of a meeting of the legislature's Foreign Affairs and National Defense Committee in the morning, which was held amid growing concern about the possible impact of Trump's unexpected victory on Taipei-Washington ties.
"As a matter of fact, a few weeks ago, Trump sent a key consultant from his team to Taipei and we arranged for him to meet Tsai. I also spent some time catching up with the consultant, as he is an old acquaintance of more than 30 years," said Lee, who served as the nation's representative to Washington from July 2004 to April 2007.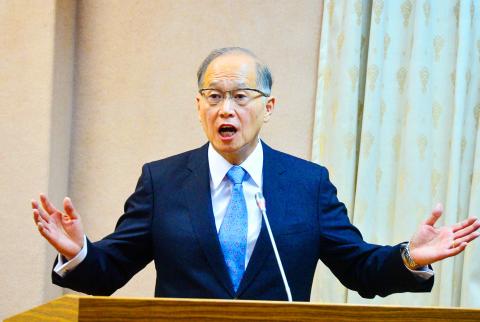 Minister of Foreign Affairs David Lee yesterday speaks during a question-and-answer session at the Legislative Yuan in Taipei.
Photo: Wang Yi-sung, Taipei Times
Presidential Office spokesman Alex Huang (黃重諺) later disclosed the identity of the "consultant" — Edwin Feulner, founder of the Washington-based Heritage Foundation think tank — who met with Tsai on Oct. 13.
Representative to the US Stanley Kao (高碩泰) has met with a number of Trump's counselors, Lee said, adding that, based on his understanding, Kao is set to meet key members of Trump's transition team over the next few days.
Asked to comment on public concerns that Trump, given his business record, might seek to warm ties with China at the expense of Taiwan's interests, Lee said Taipei is a vital asset to Washington rather than a liability.
"We will definitely endeavor to strengthen our cooperation with the US, and show Trump's team that Taipei is an important asset to Washington and an indispensable part of the US' strategy in the Asia-Pacific region," Lee said.
He dismissed worries about cross-strait stability in light of Trump's calls on US allies in Asia, particularly Japan and South Korea, to shoulder a larger share of the defense burden, saying it is still too early to talk about details of Trump's future policies.
Representative to Japan and former premier Frank Hsieh (謝長廷), who attended a routine legislative meeting for the first time since assuming his diplomatic post in June, called for closer Taiwan-Japan cooperation, saying Trump's election could pave the way for the return of protectionism and isolationism.
"A former Japanese prime minister once said that one of the three Asian crises would be the US pulling out of Asia... In the face of the new political landscape, Asian countries should unite and cooperate with each other," Hsieh said.
However, as most Asian countries are not on good terms with each other, with the Taipei-Tokyo ties being one of the few exceptions, Hsieh said that Taiwan should build on its relationship with Japan.
Separately, Premier Lin Chuan (林全) reaffirmed the nation's ties with the US after Trump takes office, saying Taiwan would not change its policies on building stronger political and economic relations with the US.
The government will not alter its policies and plans following the US presidential election, and Taiwan will continue to hold talks with the US under the Trade and Investment Framework Agreement, and push for a bilateral investment agreement and, eventually, a free-trade agreement, Executive Yuan spokesman Hsu Kuo-yung (徐國勇) quoted the premier as saying.
During the Cabinet meeting, Lin did not discuss the US-led Trans-Pacific Partnership amid uncertainties about Trump's view on the proposal to form a regional trade bloc, Hsu said, adding that the Executive Yuan would initiate response measures when prospects become clearer.
The Cabinet held an interministerial meeting on Wednesday after the result of the US presidential election was declared, and decided not to activate the National Stabilization Fund as the local stock market's fluctuation was milder compared with that of neighboring countries, Hsu said.
Additional reporting by Chen Wei-han
Comments will be moderated. Keep comments relevant to the article. Remarks containing abusive and obscene language, personal attacks of any kind or promotion will be removed and the user banned. Final decision will be at the discretion of the Taipei Times.