Hung proposes peace accord in Beijing
CLOSED-DOOR MEETING: The KMT chairwoman suggested ending cross-strait strife with a peace agreement, assuaging the 'dangerous instability' caused by 'separatists'
Chinese Nationalist Party (KMT) Chairwoman Hung Hsiu-chu (洪秀柱) yesterday reiterated her objection to Taiwanese independence and proposed ending the decades-long hostility across the Taiwan Strait through a peace accord when she met with Chinese President Xi Jinping (習近平) for the first time since being elected party leader in March.
At about 4pm, Hung and Xi greeted each other and shook hands for nearly 10 seconds before jointly entering a conference room at the Great Hall of the People in Beijing, where they made opening remarks before conducting a meeting behind closed doors.
Six other KMT members were present at the meeting — KMT Central Policy Committee director Alex Tsai (蔡正元), KMT vice chairmen Steve Chan (詹啟賢) and Jason Hu (胡志強), KMT Mainland Affairs Department director Huang Ching-hsien (黃清賢), former KMT vice secretary-general Chang Jung-kung (張榮恭) and Taipei City Council Speaker Wu Pi-chu (吳碧珠).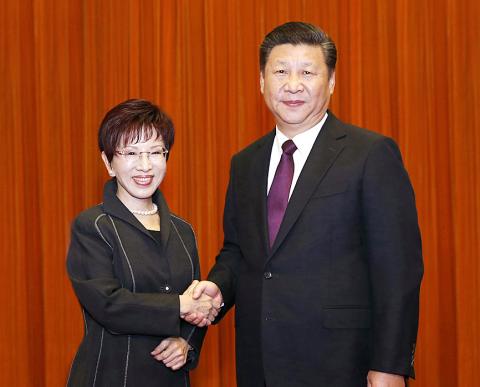 Chinese Nationalist Party (KMT) Chairwoman Hung Hsiu-chu, left, and Chinese President Xi Jinping shake hands at the Great Hall of the People in Beijing yesterday.
Photo: AP
The Chinese delegation led by Xi was comprised of Central Committee Policy Research Center director Wang Huning (王滬寧), General Office of the Chinese Communist Party's (CCP) Central Committee director Li Zhanshu (栗戰書) and deputy director Ding Xuexiang (丁薛祥), Taiwan Affairs Office Minister Zhang Zhijun (張志軍) and Vice Minister Chen Yuanfeng (陳元豐), and China's Association for Relations Across the Taiwan Straits Chairman Chen Deming (陳德銘).
"Amid the suspension of official cross-strait communication channels, it is the KMT's unshakeable responsibility to assist private organizations and help address relevant problems through the KMT-CCP communication mechanisms," Hung said.
With that mission in mind, Hung said that the KMT passed a new peace-centered policy platform in September that aims to counter the Democratic Progressive Party's independence platform, and to explore the possibility of ending cross-strait antagonism with a peace agreement, assuaging any potential "dangerous instability" caused by "separatists" and furthering the so-called "1992 consensus."
The "1992 consensus" refers to a tacit understanding between the KMT and the Chinese government that both sides acknowledge that there is "one China," with each side having its own interpretation of what "China" means.
Former Mainland Affairs Council chairman Su Chi (蘇起) in 2006 admitted that he made up the term in 2000.
Beijing cut off government-level communications with Taipei in May due to President Tsai Ing-wen's (蔡英文) refusal to endorse the so-called consensus.
Instead of reciting verbatim the formula of "one China, with different interpretations" — which the pan-blue camp has deemed an integral element of the "consensus" — Hung said the political foundation on which cross-strait mutual trust was built has been maintained by the "1992 consensus" and both parties' wisdom in "seeking common ground on the 'one China' principle, while retaining their differences on the meaning of 'one China.'"
"We understand and can feel the grave concern the general-secretary [Xi] has toward the current cross-strait situation. With empathy, mutual respect and the tolerance of people on both sides of the Strait, we believe we will have the wisdom to address the difficult problems in cross-strait relations," Hung said.
In his opening remarks, Xi reiterated his party's insistence an adherence to the "1992 consensus" and its opposition to Taiwanese independence.
"We belong to a community of shared destiny. Insisting on the political foundation of the '1992 consensus,' which embodies the 'one China' principle, and maintaining peace and stability across the Taiwan Strait and the peaceful development of cross-strait relations, are the sole objectives of compatriots on both sides," Xi said.
The Hung-Xi meeting marked the fourth time the leaders of the KMT and the CCP have met since 2005.
The meeting in 2005 was between then-KMT chairman Lien Chan (連戰) and then-Chinese president Hu Jintao (胡錦濤), followed by another in 2008 between then-KMT chairman Wu Poh-hsiung (吳伯雄) and Hu.
In May last year, Xi met with then-KMT chairman Eric Chu (朱立倫).
At a post-meeting news conference at the Beijing Hotel, Hung said she told Xi during the closed-door session everything Taiwanese had wanted to express, as well as mentioned issues that would require Beijing's assistance.
Hung said she also told Xi that she hoped Chinese athletes would be allowed to participate in next year's Summer Universiade in Taipei and that Beijing would offer its assistance to Taipei at next month's APEC summit.
However, Xi stressed that such issues could only be discussed after the "1992 consensus" issue had been addressed, she added.
Hung spoke twice during the closed-door session, Alex Tsai said.
He said as "one China, different interpretations" has been the subject of intraparty conflict, mentioning it at the meeting would have been inappropriate, which was why Hung chose to look at the "1992 consensus" from a new perspective.
In Taipei, Presidential Office spokesman Alex Huang (黃重諺) reiterated Tsai Ing-wen's policies of sustainable relations, and constructive dialogue and exchanges across the Taiwan Strait based on the goal of deepening the nation's democratic mechanisms.
He also urged Beijing to face up to the existence of the Republic of China and Taiwanese's unwavering belief in democracy.
Meanwhile, Democratic Progressive Party Legislator (DPP) Lo Chih-cheng (羅致政) said Hung's news conference showed that she is leaning more toward the "one China" principle than "one China, different interpretations."
New Power Party Executive Chairman Huang Kuo-chang (黃國昌) said the comments made by Xi and Hung were nothing new and were reflective of the KMT's continued adherence to Beijing's "one China" propaganda, which does not fulfill the expectations of Taiwanese.
People First Party convener Lee Hung-chun (李鴻鈞) said Hung's remarks do not represent Taiwanese and as her own views are distinctly at odds with those of her own party, she is unable to be the voice of Taiwanese.
Lee added that China should seek to begin a dialogue with the DPP administration if it wants to achieve breakthroughs in cross-strait affairs.
Additional reporting by Shih Hsiao-kuang and Peng Wan-hsin
Comments will be moderated. Keep comments relevant to the article. Remarks containing abusive and obscene language, personal attacks of any kind or promotion will be removed and the user banned. Final decision will be at the discretion of the Taipei Times.