Council leaves event after China demands rewording
The Executive Yuan's Council of Indigenous Peoples (CIP) on Thursday announced that it has walked out of the Hangzhou Cultural and Creative Industry Expo in China this year, accusing Chinese authorities of trying to force it to reword "indigenous peoples" as "ethnic minorities," while its title was banned from event material.
The Mainland Affairs Council on Thursday night issued a statement supporting the CIP's decision, while calling on Beijing to adopt a mutually respectful attitude and to leave politics out of "interactive" events.
Council of Indigenous Peoples Minister Icyang Parod said his council had been notified that all documents and other printed material at the expo should have "ethnic minorities" in place of "indigenous peoples," adding that Chinese officials said that "ethnic minorities" was its official appellation, as Article 4 of the People's Republic of China's (PRC) constitution says: "The nation guarantees the legal rights and benefits of each ethnic minority."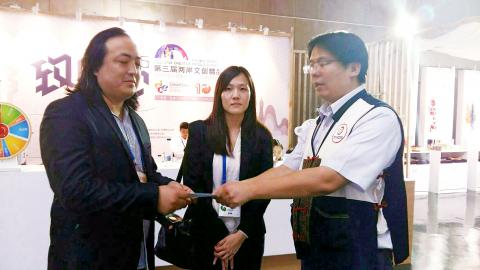 A Council of Indigenous Peoples representative, right, hands a letter of protest to an organizer of the Hangzhou Cultural and Creative Industry Expo in Hangzhou, China, on Thursday.
Photo courtesy of the Council of Indigenous Peoples
Icyang said that adherence to the PRC constitution ignored a 1994 Republic of China (ROC) constitutional amendment that officially recognized Aborigines.
Up until the CIP delegation departed for Hangzhou, it said that the group would be attending the expo without changing its name, Icyang said, adding that the CIP had not expected the hosts to make such demands.
The hosts removed a plaque over an area bearing the CIP's name, Icyang said, adding that the habitual politicization of what should be simple cultural interactive events was not conducive to harmonious cross-strait relations.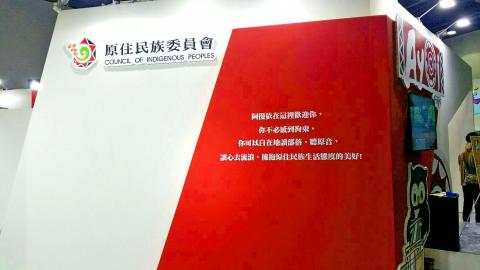 The Council of Indigenous Peoples' title is displayed on a booth at the Hangzhou Cultural and Creative Industry Expo in China on Thursday. The signage on the left side was later removed by organizers.
Photo courtesy of the Council of Indigenous Peoples
China was adhering to Han chauvinism by referring to other ethnicities as "minorities," Democratic Progressive Party Legislator Kolas Yotaka said.
The government and the private sector are willing to work with China on certain issues, but the oppression of Taiwan by Beijing has shown that it is China that is the source of hostility, Kolas said.
Despite the CIP's expo exit, it said that 10 civilian cultural and creative groups at the event were free to make their own decision about attending, as the government encourages civilian cross-strait interaction.
Comments will be moderated. Keep comments relevant to the article. Remarks containing abusive and obscene language, personal attacks of any kind or promotion will be removed and the user banned. Final decision will be at the discretion of the Taipei Times.