Exit rules lifted for blue-collar workers
'BAD APPLES': The amendment would allow 'runaway' foreign workers to remain in Taiwan indefinitely and the government's hands would be tied, opponents said
Foreign blue-collar workers will no longer be required to leave the nation every three years, according to an amendment to the Employment Service Act (就業服務法) passed by the Legislative Yuan yesterday.
The amendment, sponsored by Democratic Progressive Party (DPP) Legislator Wu Yu-chin (吳玉琴), removed a clause from the act that required foreign blue-collar workers to exit the nation for a least one day following the expiration of their three-year work permits.
Two opposing protests — organized by labor agencies and labor rights groups — were held outside Legislative Yuan gates as the amendment was being considered, with labor agency representatives expressing concern over a lack of "complementary measures" to ease the effects of the amendment.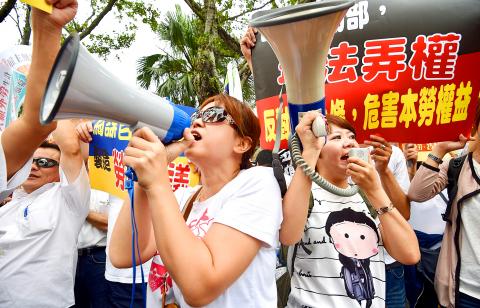 Employers, labor agency representatives and labor organization members protest outside the Legislative Yuan in Taipei yesterday against amendments to the Employment Service Act. They also called on Minister of Labor Kuo Fong-yu to resign.
Photo: Peter Lo, Taipei Times
Foreign white-collar workers, who fall under separate regulations, are already exempt from exit requirements, which has drawn criticism for forcing blue-collar workers to repeatedly shoulder expensive labor agency fees, even when continuing to work for the same employer.
"Foreign workers have had to pay agency fees of between NT$70,000 and NT$180,000 every three years upon their return after leaving the country. That is permitting exploitation by foreign brokers," Wu said yesterday.
Depending upon their profession, blue-collar foreign workers earn monthly salaries of between NT$17,000 and NT$20,008, according to government regulations.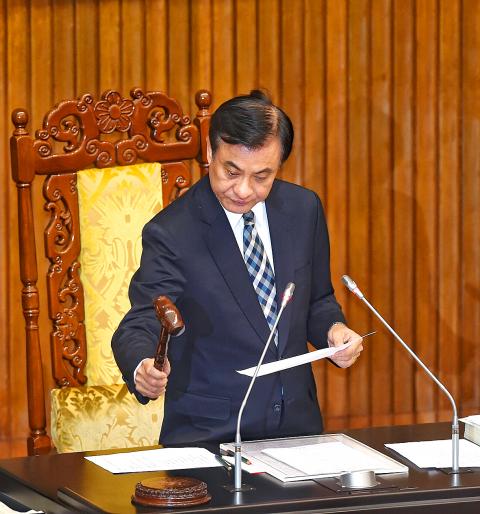 Legislative Speaker Su Jia-chyuan bangs the speaker's gavel at the Legislative Yuan in Taipei yesterday following a vote to approve amendments to the Employment Service Act.
Photo: Fang Pin-chao, Taipei Times
As of the end of July, 603,109 foreigners were employed as manual laborers, construction workers, factory workers or domestic helpers, Ministry of Labor data showed.
The ministry has estimated that about 14,000 foreign workers had to leave the nation annually because of the provisions, with individual workers subject to agency fees in their country of origin.
The amendment was also touted for allowing Taiwanese families relying on foreign caregivers to avoid "open window" periods when caregivers are forced to return to their home countries with their permits subject to renewal.
"This is a conspiracy by the Ministry of Labor," Taoyuan City Employment Service Institute Association executive director Jack Huang (黃杲傑) said as protesters called for the resignation of Minister of Labor Kuo Fong-yu (郭芳煜).
He said it was unclear what kind of "direct hiring" system the ministry plans to implement, particularly whether foreign workers would still be required to pay domestic labor agencies monthly service fees after their employers renew their contracts.
Foreign workers rehired under "direct hiring" mechanisms are exempt from the fees, but most employers rely on agencies, he said.
"The direct hiring system implemented by the ministry was not sincere, because most employers cannot work their way through all the paperwork on their own," he said.
"Now the government wants to take over the procedure through a direct hiring center, but does it have the resources to hire 30,000 people?" he said, citing an estimate of the number of people that labor agencies employ.
He said that the removal of the provision might allow "runaway" foreign workers to extend their stays, making it more difficult for agencies to manage their clients.
"The exit requirement provision is the only mechanism in place that allows us to sift through foreign workers. There is no government agency that has the ability to determine which workers are bad apples," he said.
Meanwhile, members of the Taiwan International Workers' Association (TIWA) said that the government should put "people before profits" and held mock human skins hanging from poles symbolizing their claim that agencies have used exit provisions to "skin" and exploit foreign workers.
"Migrant workers have no labor guarantees in areas such as overtime pay. If the agencies had done their job to resolve these issues, why are there so many foreign workers making appeals to the Ministry of Labor," TIWA member Chuang Shu-ching (莊舒晴) said. "Agencies know that many families let foreign caregivers work beyond their permits, but what have the agencies done about it? All they do is brand anyone who appeals to the government a 'bad apple' who has to be sifted out by the exit provision system."
Removing the mandatory exit clause would not affect employers' ability to fire workers, because employers could still choose to refuse to renew their three-year contracts, TIWA member Chen Hsiu-lian (陳秀蓮) said.
Premier Lin Chuan (林全) lauded the passage of the amendment, saying: "The workers would benefit from the alleviated burden of debt" accrued from brokerage fees, and therefore the relationship between the employers and the workers would stabilize, as fewer disputes would occur over their their limited period of stay.
Lin said that supporting measures planned by the ministry include holidays, when migrant workers can visit their home nations, and not placing a financial burden on their employers.
"A win-win situation for employers and workers is an outcome we most welcome and hope for," he said.
Comments will be moderated. Keep comments relevant to the article. Remarks containing abusive and obscene language, personal attacks of any kind or promotion will be removed and the user banned. Final decision will be at the discretion of the Taipei Times.